THINGS WERE BAD in Lenoir, North Carolina, as they were everywhere during the depression. The state legislature cut out all extracurricular subjects, including school music. More than this, there were to be no tax levies for such purposes, unless the communities voted the taxes on themselves. The problem was put up to Lenoir. Was school music worth while? The vote was a unanimous "yea."
The main reason was the Lenoir High School band of one hundred and thirty members. The High School had a student body of four hundred and fifty; and two hundred of these were on the waiting list for the band. That is, over half of the student body wanted "to play in that band." No wonder, the band had become one of the most animating things in the town and a real business advertising asset for the community. Membership in the band became a thrill to every boy and girl who was admitted.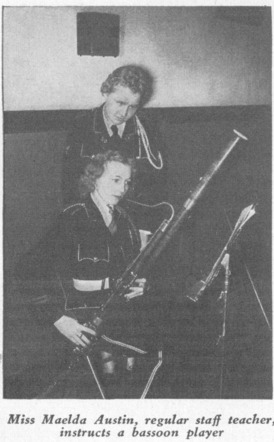 The band has a three story music building, which cost forty thousand dollars. It has sound proof practice rooms, an assembly room, a glee club room, a two-way audio system, a substantial library, a repair shop, a "make up" room and a locker r
oom. It is debt free, and everything has been paid for by Lenoir citizens. The building is frequently visited by many envious university music directors.
The band has its own trade mark, duly registered. It has two large busses and an instrument truck for transportation to music festivals and football games. It has a wardrobe and property department. Thirty-five volumes in its scrap book library tell of the value of the band as a means of publicity.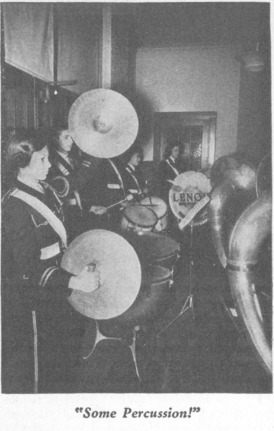 The director of the band is one of the former business men of the town, Mr. James C. Harper. He has a librarian, a secretary and two instructors, whose salaries are paid by private subscription.
When asked for an opinion, one of the town's citizens replied with warm emphasis, "Give up our Band? I guess not. Why that band has done more to put Lenoir on the map than anything else we own."
Reports of the disciplinary influence of the band on the young folks of the town have been excellent. Lenoir has less than seven thousand residents. It is in western North Carolina, north of Asheville.
Let us have more and better bands, everywhere!