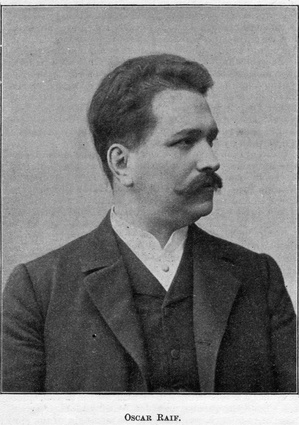 On Saturday night, July 29th, a message came to a beautiful home in Von Bülow Strasse, Berlin—a message that brought anguish to a fond wife, who for twenty-one years had shared her husband's successes and ambitions; a message that brought sorrow and disappointment to scores of pupils all over the world. It was death, and it called Oscar Raif in the very prime of his manhood, at fifty-two years of age.
The great teacher's life was one of great industry, beauty, and worth. A Hollander by birth, he came to Germany in his youth to study with Tausig. The early death of the latter compelled him to seek other instruction, but not before the fire of Tausig's genius had burned into his soul. Von Bülow was then in Berlin. He heard the young man, small of stature, timid, but with a strongly artistic temperament, and he demanded of young Raif that he devote himself to music alone.
Professor Raif relinquished concert playing some time ago, as the increasing demands of his position as a teacher in the Hochschule and his private teaching made it impossible for him to pose as a concert artist. Two years ago Professors Barth and Raif had upon their list eighty pupils, and I am told that sixty of them were Americans.
Raif's method was not easily understood, nor much approved of in Germany. He was, like many great men, unique.
He has been regarded an interpreter. He made a thorough study of tone and touch. His clever machines and other devices for illustrating his work were the admiration of his pupils. He did not believe in too much dry technical work. He thought that one could acquire a technic far more readily through scale practice than through études. He was very reticent about explaining his views to the public, for with true artistic reserve, he felt that the public did not thoroughly understand him. At the time of his death he had nearly completed a work which had been accepted by a well-known publishing house, and was to have been published this fall. The illustrations for the entire book he had made himself.
After the service the family and friends went to the grave in the beautiful old church-yard, and there all that was mortal of Oscar Raif was consigned to the earth. The pastor took several handfuls of earth and dropped it upon the bier. He was followed by Frau Raif, the nearest family friend, and her sons. Without a tear in her eye, but with an expression of utter desolation, the widow took the outstretched hand of Professor Joachim and other eminent musicians, close friends and distinguished men and women. It was the German way of expressing sympathy. We leave people alone with their dead. It does not matter. Hearts speak just as truly here as in America. It was over.
The influence of Herr Raif can not yet be known. He died before his time, some say. Early in the spring, when stricken with paralysis, he felt the coming shadow. He wished more time to show his ideas to the world.
I have no space to mention his many promising pupils. Among them are Miss Mary Wood Chase, of Chicago, and Miss Ida Simmons, well known in America.