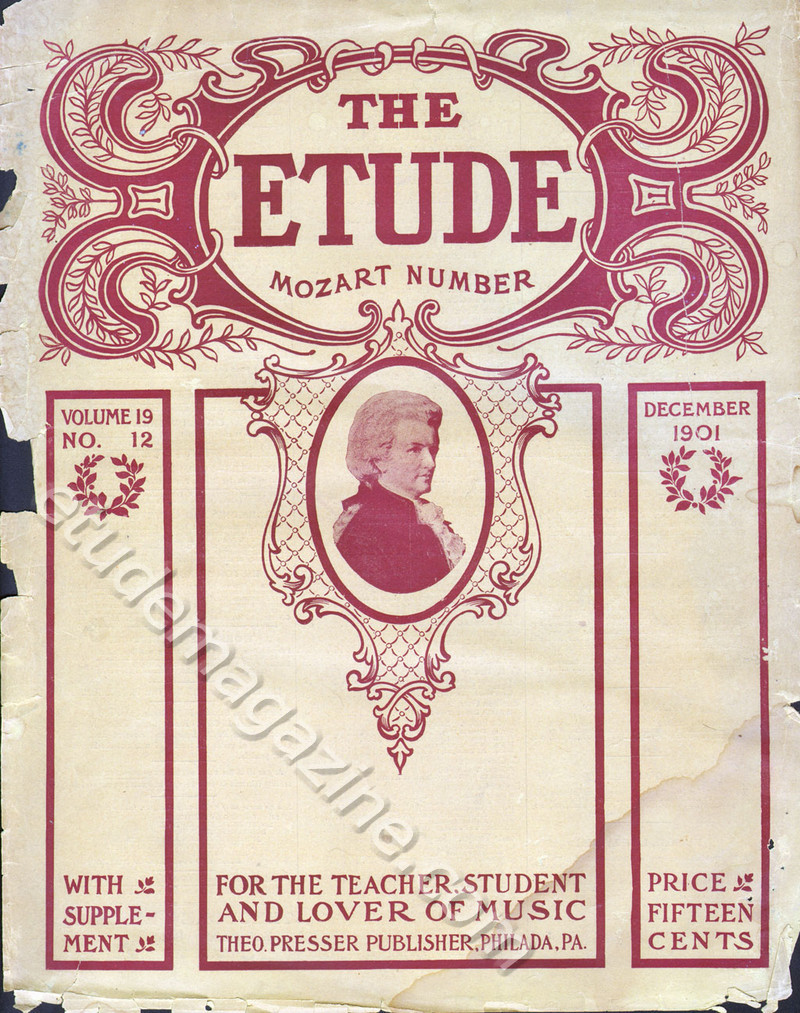 Selected Content from the December 1901 Edition of The Etude

Wolfgang Amadeus Mozart, January 27, 1756-December 5, 1791.
The time was when history was studied by learn­ing a mass of facts and a long array of dates, a dry chronicle of events rather than the story of men and women who lived, worked, and died, but whose works and aspirations died not with them. To-day we study the man and his deeds. With many of them there is no need for us to go to history to learn of them. Their influence is still felt. Those who labor to-day do their work on lines, in part, at least, laid down by those who worked years ago. Our libraries are full of their creations, from which we can re­create, before our mental visions, the man as once he breathed and lived. One of those characters who made history in his day, whose works still live to make us better and to influence us to high and pure endeavor, was Wolfgang Amadeus Mozart. Read More

Mozart: An Appreciation.
Mozart's position in the world of music is abso­lutely unique. There have been other musical prodi­gies, but never one so gifted. There have been others who were composers in their early youth, but none so remarkable. There have been other great music-masters, but none who attained distinction at so immature an age. Read More

Mozart as Piano-Writer.
By W. S. B. MATHEWS. In order to understand the influence of Mozart in the world of music, and in the world of piano-music in particular, it is necessary, first of all, to take ac­count of his personality and… Read More

The Listener to Mozart's Works.
BY J. S. VAN CLEVE. Mozart was the supreme utterance of absolute beauty in music. It may appear to be an esthetic fallacy even to hint that music may contain any­thing else than pure beauty, but this is as true… Read More

A Newly-Discovered Portrait of Mozart.


Through the kindness of Mr. Henry E. Krehbiel, of New York City, we are enabled to give a reproduc­tion of a portrait of Mozart which was not known to exist. Mr. Krehbiel found the portrait in Paris, in the summer of 1900, in the collection of M. Catusse, French minister to Sweden. A label, evidently at­tached to it on the occasion of a public exhibition long ago, credited it with being a portrait of Necker, a famous French minister of finance. Read More

Mozart's Genius, by C. von Sternberg
There is a serious doubt in my mind whether our imagination, so ready to conjecture and to depict the future, is equally capable of grasping and representing the past to our intelligence. The histories of the world, of science, or of art, furnish a superabundance of data, to be sure, to assist our imagination; but, to the majority of minds, these data are just data, and nothing more; they do not unveil the picture of the world as it looked before some great mind impressed it with its stamp. Read More

The Impress of Mozart on Musical History.
By EDWARD DICKINSON Three kinds of masters. The question of the influence of Mozart on the history of music belongs to a class of prob­lems in art-history difficult to solve. The impression which an artist makes upon the subsequent course… Read More

Suggestions for Programs from Mozart's Piano-Works.
By EMIL LIEBLING Mozart was one of those darlings of fortune to whom everything came easy. At a very early age he astounded the world by his precocity in piano-playing, solved most intricate musical problems with perfect ease, and continued… Read More

The Art of Mozart.
BY H. A. CLARKE. It may seem rather late in the day to discuss the "Art of Mozart," but, in view of the fact that there is a large and growing class who flippantly dismiss Mozart as old-fashioned or antiquated,… Read More

Mozart Literature.
By FRANK H. MARLING. C. F. Pohl, the learned librarian of the Gesellschaft der Musikfreunde, in Vienna, has made the following striking statement about Mozart: "Mozart has often been compared with other great men, Shakespeare, Goethe, Beethoven, Haydn, etc.,… Read More

Children's Page, Conducted by Thomas Tapper
A MOZART EVENING. One of the most delightful phases of Mozart's life was his strong attachment to his home, especially in childhood years. He loved his father and mother, learned his sister Nannerl's lessons, was proud of her talent,… Read More

Studio Experiences.
Many times has it been repeated how stimulating is the interest that parents take in the work of their children who are studying music! So far as my ex­perience goes, all parents, as a rule, are interested in their children's studies, but the trouble is with the interest itself. Read More

Mozart: Boy and Man.
By THEODORE STEARNS. The greatest stranger to Mozart was Mozart him­self. The greatest gifts he made were given to those who never helped him. More than any other light in music he needed a true friend; he never found one…. Read More

A Mozart Revival.
Mozart's name has at times been obscured by the many-colored mists of modern realism and romanti­cism. Signs, however, are not wanting to show that the twentieth century will set the seal of a deeper and broader recognition on his works than has been the case for a long time past. Read More

Mozart as a Worker.
From "Mozart: l'Homme et l'Artiste," by Victor Wilder. Mozart was not simply a composer of extraordi­nary fecundity; he was music itself. His entire being was absorbed in his art, and all his thoughts took naturally a melodic and rhythmic form…. Read More

The Joachim Bowing.
Some years ago, and again quite recently, I freely discussed this question of "Joachim Bowing" with reputable artists who had studied with Joachim when the Hochschule was in its infancy. These men, without exception, made the positive statement that, in those days, there was absolutely nothing known concerning any system of bowing based on Joachim's right-arm achievements. They, too, have learned the origin of that dismal failure known as the "Joachim Bowing." Read More

Some Interesting Statements
The following statements are said to have been made, in a recent interview, by Camilla Urso: "There is a regular course of study to be pursued for one who aims to become a fine violinist, as there is for one… Read More

Teaching the Beginner.
In the November issue of The Etude the first two questions bearing on the subject "How do You Teach a Beginner?" were discussed for the benefit of all readers who are interested in teaching young and in­experienced players. Let us… Read More

Thoughts Suggestions Advice - Practical Points by Practical Teachers
EXCESSIVE CRITICISM. CHARLES W. LANDON. It needs tact, guided by common sense and ex­perience, to know when and how much to criticise a pupil for the pupil's own good rather than for the teacher's selfish satisfaction; to say nothing of… Read More

Editorials
We have devoted this number of The Etude to a study of the great genius of music, Mozart, the in­comparable. The oft-quoted statement that historical movements are like the swing of a pendulum may be reiterated here. Signs are not… Read More

Prospective.
Among the subjects that are to claim the attention of vocalists during the year of 1901-2, the following have been selected because of their practical value to the profession. So much has been said and written on respiration, tone-placing, and… Read More


Analysis of "Voi, Che Sapete."
I realize that the infinite care and thought be­stowed on a song when increased to meet the require­ments of an operatic rôle means great toil and ex­penditure of time. But it has its own reward. The truly great opera-singers of to-day are great because of just this great amount of time devoted to their work. Read More


The Technic of Vocal Expression.
When we listen to the interpretation of a great artist in song, it is not necessary to the full enjoyment of the work that we make an exhaustive analysis of how it is done; but if perhaps we are also… Read More


How Not to Make a Song.
It is strange how the uninitiated view music: To some a song is just simply a tune, a succession of tones arranged in an inoffensive manner, conveying no par­ticular thought, and therefore pliable enough to be twisted into companionship with… Read More


Technic in Singing. II.
I may now pass on to the subject-matter proper of this paper, — Technic in Singing, — which I will divide up into vari­ous sections, beginning with the Singing Breath. Many words, both written and spoken, have been wasted on… Read More


The Singer's Opportunity.
Music has its own language, but it is never a defi­nite language as we have by the use of words. It only presents pictures, and this effect must be very largely aided by the imagination of the hearer; but, the moment words are used in connection with the music, a definite idea is conveyed, an idea which will be much more intelligible and concrete to the ordinary unmusical audience than will be the more abstract ideas suggested by the music alone. This is where the singer's great opportunity lies. Read More


The Helping Hand.
BY HERBERT G. PATTON. It would, indeed, be a lamentable condition were the best educated and most highly-cultured to confine their associations to their equals. We are too ready to commend the resolution to shun inferiors and to associate only… Read More

A Club Duty
The Christmas number of The Etude brings us face to face with the problem of bringing light to the blind, cheer to the sad, and help to the needy. This is no more Woman's work than Man's work; but, just… Read More

The Malleability of Mozart.
It falls to "The Department of Woman's Work" to consider the influence of women upon Mozart. It is not pretended that the readers of these columns will be likely to bear the mental and moral responsibili­ties of exactly such a personage, but undoubtedly it is well to open their eyes to the gravity of their responsibilities as a sex. In a certain country village, where men are hard and sometimes reckless, the edi­tor of these columns has sometimes inquired into the causes of their misdeeds and bad ends. The answer usually runs: "Waal, folks say he warn't so much to blame neither! They that know his wife say he was druv to't." With a full consciousness of the turpitude of our sex when a man is "druv" the wrong way, let us review the life of Mozart, who has come down as a typical case of bad management on the part of women. Read More

Club News
The St. Cecilia Club, of Midland, Mich., puts itself on record as an energetic body of students on the right path. The club, or­ganized nearly a year ago, records a membership of thirty ladies, with an average attendance of twenty…. Read More

The Organ Prelude and Postlude.
Dr. Waldo Selden Pratt, Professor of Music and Hymnology in Hartford Theological Seminary, has just issued, through the house of Fleming H. Revell Company, of New York, a small volume entitled "Musical Ministries in the Church," which should be in… Read More

Mr. Edwin H. Lemare.
This well-known London organist has been giving a series of organ-recitals in various cities of the eastern part of the United States, and extending as far west as Chicago. New York, Boston, Brooklyn, Worcester, Springfield, Hartford, Detroit, and Rochester were… Read More

Frederic Archer.
Frederic Archer, the well-known organist of Carnegie Hall, Pittsburgh, Pa., died Octo­ber 22d, from cancer of the stomach at the age of sixty-three. He was born in Oxford, England, June 16, 1838, where he received a liberal education. He was… Read More


New Christmas Anthems.
"Behold, I Bring You Good Tidings" (Owen). (Short soprano solo with quartet or chorus.) "Glory to God" (Lynes). (Alto solo and chorus.) "Angels from the Realms of Glory" (Lansing). (Solo and quartet.) "The Singing Hosts of Heaven" (Marston). (So­prano solo… Read More

A "Canon."
We all desire co-operation and equal interest between organists and music commit­tees, all working together for the good of the church. A few committees understand the requirements of good music; but there are many who do not. I breathe a… Read More

Mixtures.
The official bulletin of the American Guild of Or­ganists, combined with the Church-Music Review, published by Novello, Ewer & Co., has made its initial bow to the public and is to be commended to every member of the Guild as… Read More

Musical Items
A direct descendant of J. S. Bach, Hermann Bach by name, is said to be living in Erfurt. He is a piano-teacher and is gifted with a fine memory for com­positions that he has heard… The New York Sun says that Carnegie Hall has been engaged for a piano recital by Paderewski, on February 14th. The composer's opera "Manru" is to be produced February 12th. Walter Damrosch is to conduct the opera… A New York paper says that Mr. Grau has de­cided to engage legitimate musical stars to play upon the high-class vaudeville stage, believing that there is a good field and a demand for the best singing and playing under conditions which can appeal to a large public. Read More

New Publications
MUSIC AND ITS MASTERS. By O. B. Boise. J. B. Lippincott Company. $1.50, net. This work, by an American musician, formerly resident in Berlin, but now Professor of Musical Com­position in the Peabody Institute, Baltimore, Md., is a study as… Read More

Five Minute Talks With Girls, By Helena M. Maguire
The relationship of the brother and sister of to-day is, of course, different in many ways from what it was in the time of Lazarus and Mary, or even in the days of Wolfgang and Nanny Mozart. Girlhood has received what it has long been petitioning for, co-education; but the very privilege which has permitted you to enter the ranks and march beside your brother has made you a respon­sible person, you music-students with the rest. Read More

Questions and Answers
G. L.—In singing hymn-tunes, or other music for four parts, if the prevailing character be harmonic, the soprano should be more prominent than the other three parts, as in "Nearer, my God, to Thee," for example. But if it be… Read More

Publisher's Notes
RENEWAL OFFER FOR DECEMBER. As a special offer for the month of December, to those of our subscribers who desire to renew their subscriptions during that month, we make the fol­lowing offers. It is not necessary that your subscrip­tion expire… Read More

Special Notices
FORMER ISSUES OF THE ETUDE HAVE MADE mention of the new school (The Walker-Severn School of Music) in the Van Dyck Studios, at Eighth Avenue and Fifty-sixth Street, New York. It is con­stantly in receipt of correspondence from all parts of the country, and with such earnest, educated, and conscientious teachers at the heads of its depart­ments it can scarcely fail of achieving great success, although success come more slowly to those who, like Mr. Francis Walker and Mr. and Mrs. Edmund Severn, make no pretence to any royal roads or new methods. Their invitation is extended to earnest students who understand that well-guided work is the requisite for good results. Read More

Testimonials
I have examined your "First Steps in Pianoforte-Study," and find it a work that will appeal to all up-to-date musicians as a remarkable and valuable work to teachers and pupils alike.—E. Bovard. I thank you for the careful and prompt… Read More

Recital Programs.
Recital programs performed by pupils of the Sickner Conservatory, C. J. Finger, Walter S. Sprankle, and others. Read More

Home Notes.
Mr. Perley Dunn Aldrich's late recital in Rochester, N. Y., included von Fielitz's song-cycle, "Eliland." … Mrs. H. H. A. Beach assisted the Kneisel Quartet in their opening recital in Boston, October 28th, play­ing the piano part in the "Sonata for 'Cello and Piano," opus 69, by Beethoven. The 'cello part was played by Mr. Alwin Schroeder. Read More

A Thought on Habit.
BY CHARLES W. LANDON. Teachers seldom fully comprehend the great power of habit. We notice its strength when we have learned some mechanical movement wrong, but often forget that its power is as great to lead the player into careful… Read More

How and What to Practice.
In the present we live, and we must conform our ideas to conditions that confront us, that exist, and shall continue to exist until we eradicate them. So the pianist should eliminate all that is not essential, and find what is best and most needed for his ad­vancement. Read More

How To Avoid and To Correct Mistakes.
BY WALDEMAR MALMENE. Mistakes of wrong notes and incorrect fingering are unquestionably the result of careless preparation, young pupils and even older ones not being as careful as they should be in these respects. To practice each hand alone,… Read More

The Teachers' Roundtable
Conducted by PRESTON WARE OREM. SCOLDING. I want to add a few words on scolding to those written by F. L. S. for the October Etude. Each teacher has all kinds of pupils,—if he has a large class,—and necessarily… Read More