January, 1902
Art by Taber Art Company

Page 40 of the January, 1902, issue of "The Etude", includes this citation:

"The small illustration, 'The Flute Player,' on the front cover page is used by permission of the Taber-Prang Art Co., Springfield, Mass., owners of the copyright. A large size copy of this picture can be obtained from the publishers."
Search eBay for a print copy of the January, 1902 edition of The Etude Music Magazine.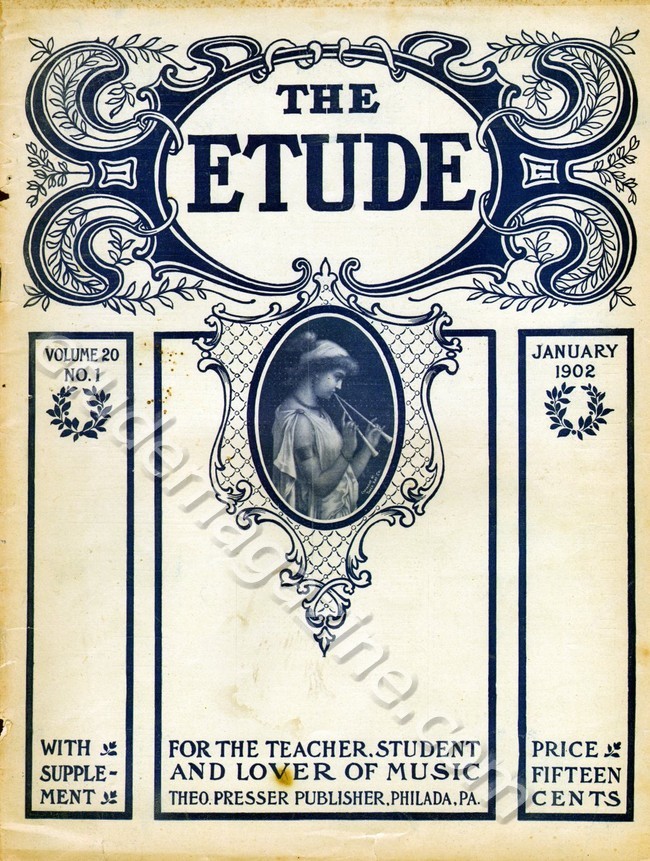 Selected Content from the January 1902 Edition of The Etude

Five Minute Talks With Girls, By Helena M. Maguire
To the Beginners in Harmony. Studying harmony means gaining a working knowledge of the materials used in making music. It does not necessitate a gift for composition; it does not require that you have even so much as a desire… Read More

"Just a Little" and Art.
Liszt's manner of teaching at Weimar somewhat resembled the method em­ployed by painters in their classes for students. The master oversees the work of the pupils, sometimes paints in their presence, cor­rects their work, and by both precept and example… Read More

Special Notices
THE BUREAU OF UNIVERSITY TRAVEL, OF Ithaca, N. Y., is organizing another Special Music and Art Tour. The same general plan as was found so successful last summer is to be followed this sea­son. The points of interest will be… Read More

How to Assimilate
The student who sets himself to work to acquire knowledge, and neglects to consider the question of how he is to arrange and classify it for himself, so that it be at hand when needed, and in orderly, compact, available… Read More

Some Qualities of the Ideal Student.
In music, as compared with kindred artistic pursuits and the various learned professions, what may be termed the truly ideal student seems to be more of a rarity. The study of music seems not to be ap­proached with the same… Read More

Taking an Observation.
On clear days the captain of an ocean-going vessel "takes an observation" to determine the position of his vessel and the course he must steer to reach his haven. At this time, the beginning of a New Year, it is… Read More

Musical Items
One of the most distinguished of modern composers, Joseph Gabriel Rheinberger, died in Munich, November 25th, of heart and lung trouble. Professor Rheinberger had recently resigned from his position in the Royal School of Music at Munich, which he had filled for the past thirty years. Read More

Questions and Answers
E. F.—1. The accent in rag-time ordinarily falls on the beat that should have the accent regularly. In many cases, however, a special accent is marked to make the syncopation more distinct. 2. The execution of a note with the… Read More

Home Notes.
Dr. Charles R. Fisher is giving a series of piano-forte-recital talks in the Western College Conserva­tory of Music. The leading classical and modern composers are represented in the program. Miss Clara Maclean and her pupils gave a Schu­mann recital last… Read More

Recital Programs
Recital by Mr. Perlee V. Jervis. Momens Musicals, Schubert Gavotte, Bach Improvisation, Novelette, Scotch Poem, March Wind, MacDowell Spring Murmurs, Sinding Liebestraueme, Liszt Silver Spring, Mason Polonaise in E, Liszt. Pupils of Broad Street Conservatory of Music, Philadelphia, Pa…. Read More

Josef Hofmann on Piano Practice and Technic

JANUARY, 1902. A CLOSER knowledge of Josef Hofmann proves two things: his possession of an extraordinary alertness of mind and of concentration,—qualities of eminent importance to the pianist, and an idea is conveyed to him sufficiently by a suggestion,… Read More



In Mozartland With Old Fogy
Salzburg, December 15, 1901. Dear Mr. Editor: The Mozart number of The Etude has just reached up here in Mozart's land, and to say that I devoured its contents at a sitting would be but the statement of a… Read More