Search eBay for a print copy of the May, 1902 edition of The Etude Music Magazine.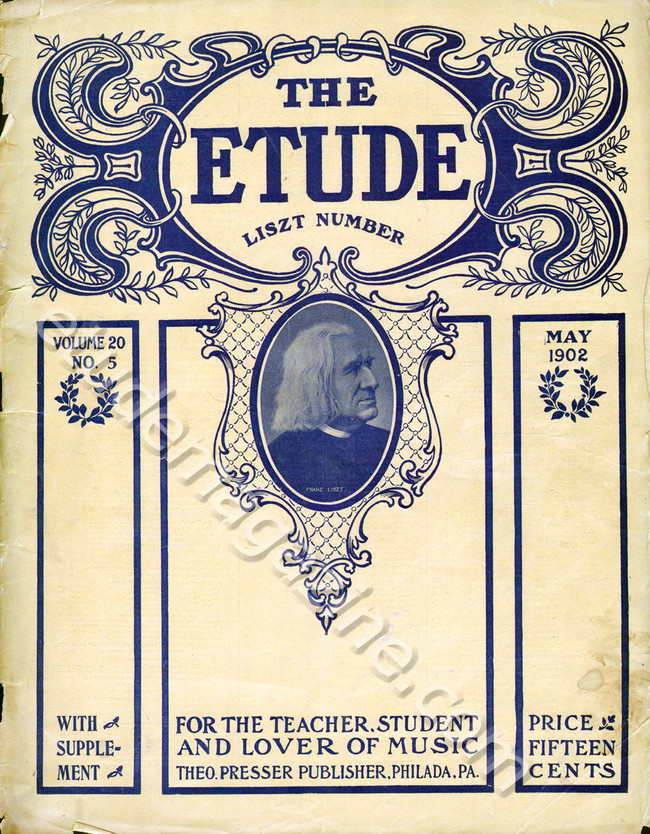 Selected Content from the May 1902 Edition of The Etude

Victorious Liszt.
It is useless to say that nothing aroused his wrath so much as the receipt of an invitation to play the piano at some festival concert by a "friendly" committee which tactlessly ignored the fact that he was a composer as well as a pianist. Though he was the most genial of men, I suspect that he had said to himself: "If they will not listen to my compositions, they shall not hear me play either." Read More


Liszt as a Musical Influence.

Liszt's effect upon the music of the last half of the nineteenth century is by no means to be meas­ured by his own work in composition or by his great abilities as a pianist. His power as a composer was scarcely understood during his life-time, although Wagner ranked him as among the very highest in this field, and his abilities as a performer were veiled from all but a select few by his early retirement from the concert-platform. Read More


Liszt, the Musical Liberal

It may help the reader to form an estimate of one of Liszt's chief characteristics if I say that he was the most loved man in history. He was loved by more people than any man I ever heard of, and I think I have not overlooked anybody of consequence in history; he was loved more devotedly, more affection­ately, demonstratively, and more enduringly. Read More


Caricatures of Liszt From a Comic Paper


Read More

Liszt as Pianist and Piano-Composer.
From the material of his playing it seems quite certain that the early distinctions of Liszt were due to his captivating manner, which as a boy was seri­ous, charming, and full of sensibility, and as yet without the circumambient "atmosphere" of the suc­cessful virtuoso. Read More


Liszt As a Teacher, by Amy Fay
I am sometimes questioned as to Liszt's "method." He had none that I am aware of, although he doubtless served his time when he was a pupil of Czerny, who must have been one of the best teachers who ever lived. Probably it was to the faithful prac­tice of Czerny's etudes (from which he, in vain, prayed his father to be delivered) in his youth that Liszt owed those fine-spun fingers of his, for his finger-technic was something marvelous, and made everybody else's seem coarse and heavy in compari­son. Read More


Transcriptions for the Piano by Franz Liszt.
Whatever may be thought or said of Liszt as an original composer, in his piano-transcriptions he has never had an equal, scarcely even a would-be com­petitor. His work in this line is of inestimable im­portance to the pianist, both as student and public performer, and forms a rich and extensive depart­ment of piano-literature. Read More


Robert Schumann on Liszt's Playing.
Liszt is now [1840] probably about thirty years old. Everyone knows well that he was a child phe­nomenon; how he was early transplanted to foreign lands; that his name afterward appeared here and there among the most distinguished; that then… Read More


The Best School for Expression.
BY ROBERT D. BRAINE. If a teacher has in his class "dull and muddy met­tled" pupils who seem to be hopelessly destitute of taste, feeling, expression, and enthusiasm, he cannot do a better thing than advise them to go to… Read More


Music and the Season
BY MARIE BENEDICT. As the spring is gradually unfolding its charm in the outer world, to be succeeded in time by the joy of early summer, the teacher may markedly enhance the pupil's interest in the lesson and in the… Read More

Technical Phases Of Piano Playing
By EMIL LIEBLING An article which is to deal with the whys and wherefores which actuate different artists in the physical peculiarities and varieties of attacking and presenting pianistic work will necessarily leave scope for great diversity of opinion, for… Read More

The Modern Piano.
Mr. Arnold Dolmetsch, a noted musician and piano-expert of London, contributed an interesting article to a London paper on "The Modern Piano and the Modern Virtuoso," from which we have reprinted the following: "The gorgeous tone these highly trained athletes… Read More

A Gospel of Humor.
BY LOUVILLE EUGENE EMERSON. Our Puritan ancestors were lacking, to a certain extent, in the saving grace of a sense of humor. There is a sublime ridiculousness in condemning one for not letting you think as you please, and then… Read More

Practical Working Rules of Life.
Some time ago a magazine printed a number of rules for practical every-day life. We append a few for the benefit of our readers. Every man should have an avocation besides his vocation. It is better to do a thing… Read More

The Student's Attitude Toward His Art. I. Humility.
Before undertaking the study of any art the intending student should put himself through a course of severe self-examination as to his fitness for such a pursuit, and as to his motives for entering on it. Too many make the… Read More

The Questioning Pupil.
Teachers are frequently censured for lack of success with certain pupils, when, more often than not, the fault lies largely with the pupils themselves. It is not our purpose, at this time, to go into the various causes leading to… Read More

Power Through Repose.
The Roman soldiers used to exercise and drill in san­dals to which heavy iron soles were attached. When a forced march or any great exertion was required, these soles were removed. The consequent relief and lightness of foot enabled them… Read More

Studies in Writing English.
In the April, 1902, number of The Etude, Mr. Theodore Stearns made the valuable suggestion that the student of music should train himself to write down his impressions. This plan has much to commend it. Writing down what one has… Read More

A Students' Club.
The Hebron, Ill., Glee Club has arranged a course of study in fundamental music-theory, the work for each meeting being pub­lished in advance in the local papers. The meetings are public, and include study of the lesson, sight-singing, and reading… Read More

Five Minute Talks With Girls, By Helena M. Maguire
By Helena M. Maguire The Art of Fingering as Applied to the Pianoforte Legato. "It takes the art instinct to make sufficient account of the very small things in the study of music." In the March Etude Mr. Louis Arthur… Read More

Practical Points by Practical Teachers
PASSAGE-PRACTICE. PERLEE V. JERVIS. For getting control of a difficult passage I have found these methods of practice very helpful: First, divide the run, cadenza, or what-not into groups of four notes each; if it is in triple time into… Read More

The Necessity For Business Adaptability.
BY J. FRANCIS COOKE, M.B. At the completion of a course of preparation cov­ering several years, during which time the student is so isolated that business of any kind is looked upon as a foreign matter, it is not surprising… Read More

Musical Items
American automatic piano-players are winning their way in England. The city council of Saint-Denis has voted the sum of $240,000 for the building of a municipal theater. The magistracy of Munich have given a subven­tion of $1500 to the well-known… Read More

Editorials
In another month a number of young men and women will be graduated from the scores of schools and conservatories of music of this country. It is not possible to say what proportion of these grad­uates will take up the… Read More

Outlets for Vocalists.
This is, in some respects, a painful subject. Too many men and women say to themselves: "I'll study the voice. I may sing; if I cannot, I certainly can teach." The professions seem to parallel in this particular; failure to… Read More


Signor Sbriglia and Some of His Pupils.

Perhaps there is no teacher living at pres­ent more prominent in the public eye than this G. Sbriglia, who has such unique, if not ex­treme, views on tone-production. As I knew him in my student-days, he represented the very antithesis of the modern popular ideas on vocal technic. Read More


Natural Vocalism.
Many find the art of Voice-Production a sub­tle matter beyond their comprehension; yet there is none so facile, and that for a very excellent reason, viz.: the mechanism of the instrument is perfect. Given health, and an in­telligent study of… Read More


Registers.
Following a similar line of thought to that expressed in the article in The Etude for February, 1902, it has led me to the consideration of another phase of voice cultivation in which there is a wide divergence of opinion… Read More


The Influence of Frescobaldi.
Girolamo Frescobaldi, who was a skilled harpsichord-player, was born in Ferrara, a small Italian city about twenty-eight miles north of Bologna, in 1587. When but a boy he possessed a remarkable voice, and frequently wandered from town to town singing,… Read More

Tuning Reeds.
A correspondent asks for information on the above sub­ject, saying: "Owing to the severe cold to which some of our organs are subject, where churches are not heated during the week, when the reeds are always more or less out… Read More

The Organist as a Colorist.
Education in musical color is left generally to the haphazard process of unconscious tuition. So far as the general public is concerned, the brass band, the theater or­chestra, and the pipe-organ offer the usual means by which the people absorb… Read More

Questions and Answers.
J. C. W.—1. Mascagni was born in Leghorn, December 7, 1863. 2. Wagner is pronounced as if spelled Vahg'ner, with the accent on the first syllable. 3. The pronunciation of Haendel is difficult to indi­cate with letters. If you pronounce the… Read More

Mixtures.
Mr. L. T. Downs, who has been an active organist for sixty-two years, retired from his late position as organist of the Church of Epiphany, Providence, R. I., last February. Mr. Downs was born in Water- bury, Conn., in 1824,… Read More

The Habit of Correcting.
The majority of pupils do not realize that many of their difficulties are chiefly and di­rectly the result of their own negligence. However persistent the conscientious teacher may be in his efforts to impress this truth upon his pupils, his… Read More

The Rode Studies.
If long-time allegiance to a man or his works counts for anything in this world, the universal tribute paid to Rode must be regarded as the strongest attestation of that violinist's exceptional worth. A century of violinists, of every nationality,… Read More

Of General Interest.
Attention is again called to the questions which, beginning with the April, 1902, issue of The Etude, will be discussed under the above caption. Again it may be advisable to emphasize the fact that the majority of players are wholly… Read More

Studio Experiences
PLEASANTRIES OF LESSON-HOUR. C. W. FULLWOOD. There are many amusing, instructive incidents in Studio Experiences. I have a little girl pupil, who is bright, talented, and full of life. When she finishes a particularly good lesson or successfully conquers a… Read More

Woman's Work In Music
Edited by EMILIE FRANCES BAUER. TALKS TO CHILDREN. I have contended for many months, months that would run into years, that there is no club-work so valuable or so fascinat­ing as talks to children, and the programs which should accompany… Read More

Musicians Born in May.
May 4. B. Cristofori. May 7. Johannes Brahms. May 8. L. M. Gottschalk. May 9. Giovanni Paisiello. May 10. Claude Joseph Rouget de l'Isle. May 12. Jules Massenet. May 13. Sir Arthur Sullivan. May 15. Stephen Heller. May 18. Carl… Read More

Memory Gems.
Music is the outflow of a beautiful mind.—Robert Schu­mann. Perfection should be the aim of every true artist. —L. van Beethoven. Always play as if the eye of a master were upon you.—Robert Schumann. Learn all there is to learn,… Read More

The Etude Clubs.
Several Etude Clubs have been formed; some correspondence from secretaries is given here which is self-explanatory. Though it is late in the season to inaugurate a year's series of meet­ings, it is by no means too late to institute a… Read More

A Lesson On Bach
Said by Bach.—No one should play who cannot think in music. I am what I am because I was industrious. Whoever is equally in­dustrious will succeed as well. My idea is that music… Read More

The Victor Hugo Celebration.
At the recent Victor Hugo celebration in Paris children participated to no small extent. What was declared to be the prettiest item in the exercises occurred when twelve hundred school-children marched past the statue two by two, the little ones… Read More

What to Learn in the Biography of a Composer.
1. The main facts of his life. 2. The conditions about him. 3. The names of his greatest works. 4. The positions he filled. 5. What these positions in­spired him to do. 6. The usual and unusual about the… Read More

An Interval Lesson. I.
An Interval Lesson. I. Rule: When the upper of the two tones is in the Major Scale of the lower, the interval is Major or Perfect; Major if its number be 2, 3, 6, 7, or 9; Perfect if its… Read More

Musical Childhood.
From the German. BY WALDEMAR MALMENE. As A solid foundation is of the utmost importance to a building without which the superstructure would be a failure, so are also the first years of musical in­struction to children of tender years…. Read More

The Lesson of the Pansies.
BY MAY CRAWFORD. To-day Minnie came with a frown so big that it seemed to cover her whole face; there was even danger of its spreading to mine. Her first words were: "Do I have to take a lesson to-day?"… Read More

Reading Notices
Dr. Henry G. Hanchett will conduct a six weeks' course of music-study at Point Chautauqua, N. Y., opposite the Chautauqua Assembly. There will be classes in musical analysis and interpretation and private instruction in piano-playing, as well as a series… Read More

Special Notices
FOR SALE. AN OLD VIOLIN MADE IN 1592, IN good condition. An offer will oblige. Address: Box 22, Foutanet, Vigo County, Ind. FOR SALE. FINE VIOLONCELLO OVER ONE hundred years old. Beautiful tone and in good repair. Price reasonable. W. H…. Read More

Testimonials
The Etude gets better all the time; in fact it is decidedly the most instructive musical journal pub­lished in this country.—R. V. Young. With regard to The Etude, I find those who read it become better pupils. It is certainly… Read More

Home Notes.
The advanced pupils' recitals of the Sherwood Music School, Chicago, show a large proportion of young players capable of doing artistic work. A branch of the school has been established in Mil­waukee. Miss Kate Vannah'S song, "My Bairnie," pub­lished by… Read More

Questions and Answers
F. S.—1. Emil Sauer is in charge of the classes in artistic piano-playing in the Vienna Conservatory. To enter one of his classes a pupil must have had quite advanced training. 2. By writing to the conservatory you can learn… Read More

Teachers' Roundtable
Conducted by PRESTON WARE OREM. A highly-important subject of much practical interest which suggests itself as suitable for dis­cussion in this department is that of the "Music-Teacher's Book-keeping." The work of the teacher of music calls for some… Read More