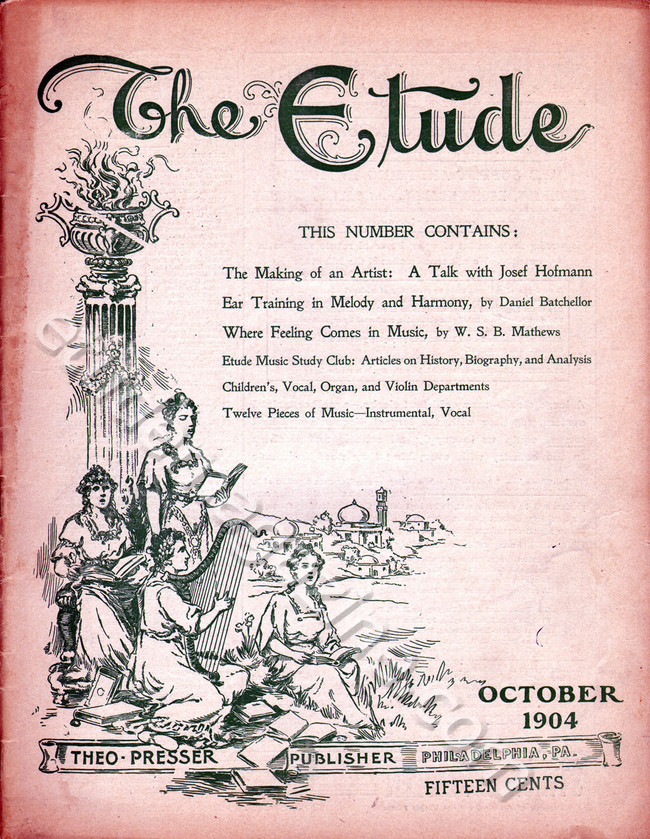 Selected Content from the October 1904 Edition of The Etude
Puzzle Pictures

Each of These Puzzles Represents an American Ballad Composer, Not Living. … Read More

A Teacher's Competition.
There are many young teachers to-day who are fighting the competition of accidents. They realize it, and rebel against it, but yet content themselves with the consciousness of their own worthy efforts, fostering the determination to win in the long run, secure in the feeling that in music, as in other walks of life, "right will prevail." Read More


Is the Profession Overcrowded?
The general opinion is that the business of music teaching is overdone, that more persons than are necessary are engaged in it. An unusual number of calls during this summer for men to take charge of vocal departments, has strengthened some of my convictions and I think may properly form the basis of some observations. Read More


Ease in Singing.
It may seem to some that this is going a long way 'round to remedy a very simple matter. "Why not tell the pupil to stop singing nasally and have the matter over with at once?" Read More


Shopping Voice Students.
The final decision upon a voice teacher is based entirely upon impression. It may be because a studio is beautiful, or the appearance of a teacher pleases, or meaningless flattery has made an impression, or one may be influenced by a teacher who states that in his instruction he combines all the better vocal methods of the world, thus obtaining wonderful results, or by a teacher who states that he can guarantee a church position, or a teacher who assures the student that he possesses a remarkable voice, great dramatic talent, and he will eventually place him in grand opera. Read More


Is English a Singable Language?
A leading teacher in Cincinnati once said to me: "There is really no vowel harder for our American pupils to utter than just the standard one, the Italian 'ah.'" This remark led me to make some investigations… Read More


Manuel Garcia—The Grand Old Man of Music.
The first essential of longevity, according to the authorities, is to start life with a good constitution. No doubt that was Manuel Garcia's endowment; but it was not evident in 1829, when he quitted the operatic stage because "his physique was not equal to the strain." But there is a second condition, hardly less essential, an active life in a pursuit that gives pleasure. Read More


M. Jean de Reszke as Teacher.
The announcement that M. Jean de Reszke, the famous operatic tenor, had decided to turn professor and teach others the art which has brought him wealth and a world-wide reputation has had the only result that could have been expected. Twenty-four hours after his intention was made known in the Paris papers M. de Reszke had received applications from forty-two persons by letter, telephone, or otherwise to be enrolled among his pupils. Read More


Organist and Choirmaster.
How does an organist become an expert choirmaster? Dr. Gerrit Smith, in a paper read at the New York State Music Teachers' Convention in Troy, the past summer, and printed in the Musical Leader and Concertgoer, replies as follows:— Read More

A Choirmaster's Qualifications.
The, following is a copy of an advertisement which appears in the current number of the Cerddor, the Welsh musical magazine. Read More

Wanted a "Te Deum."
The "Te Deum" as I have met it maunders and whines to the last degree in all sorts and styles of wandering fancies wholly meaningless and not significant even as ornamental adjuncts to a dignified work. Read More

A Word About Salaries
There is not the slightest question that the tendency in the salaries of church musicians (in and about New York City at least) has, for fully a decade, been steadily downward. There are various reasons, but two stand out most prominently. Read More

New Style of Specification.
Two-thirds of the cost goes in action and wind chests, and sometimes, with 4-manual organs, three-quarters. So that, of $10,000, say, only $2500 goes into pipes. Read More

Mixtures.
The late Dr. E. J. Hopkins was of opinion that there are various puzzling points to the thoughtful player in connection with Mendelssohn's "absolutely unsurpassed" organ sonatas. The chords written low in the bass, as found in the Finale of the First and the Allegro of the Fifth Sonatas, he thought that Mendelssohn would never have written if the "heavy doubles" of our organs had existed in his day. Read More

Harmonic Perception.
The more intricate chords—sevenths, diminished sevenths, or accidentals—are understood readily only by the few in all lands who are better trained or more musically gifted than their brethren. The most expert among us, the great composers themselves, become so advanced in understanding that they go beyond their time, and write harmonies that their hearers condemn, but future generations grow to appreciate. Thus it was with Beethoven and Wagner, and thus perhaps it will be with Strauss. Read More

Thomas Koschat - My Opus I.

For the first time in my life I was master of a piano upon which I could thump to my heart's content. My first impulse was to try to pick out one of my own melodies which I had often sung with our cook at home. Read More


Recital Programs
Pupils of Harry N. Wiley.Festival March (4 hds.), Löw; Bohemian Dance, Weber; Bourrée, le Couppey; Fable, Schmoll; Tyrolean Melody, Gaenschals; The Brownies Bugbee; Jolly Company, Kern; Alpine Flower, Gaenschals; Fairy Queen's Wedding March, Ezerman; Waltz of the Forest Spirits, Krug;… Read More

Questions and Answers
The distinguishing characteristic of a piano is not in the tuning, as you suggest, or the "voicing," as perhaps you mean, but in various mechanical points, in which skill, experience, and excellence of materials enter. It is not possible to take a piano of one make and by some device or special skill in tuning make it closely resemble in tone the Steinway or Knabe. Read More

Musical Items
A spinet that belonged to Jenny Lind has been found in Denver. The instrument was made in London in 1784. When the great singer was a child she took her first lessons by the aid of a spinet. Read More