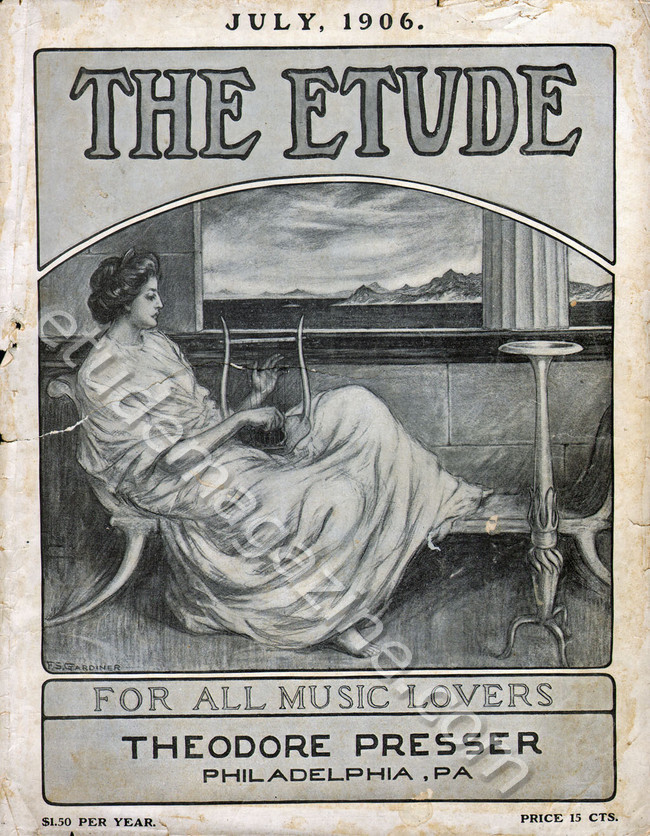 Selected Content from the July 1906 Edition of The Etude
Edouard Risler and His Playing of Beethoven's Sonatas
Edouard Risler, one of the most evenly developed and highly gifted of the younger French pianists, was born of Alsatian descent at Baden-Baden, February 25th, 1873. He was for a long time the pupil of Louis Dièmer, perhaps the most celebrated teacher in Paris, at the conservatoire. His interpretations of Beethoven are especially famous. Read More


European Musical Topics.
The Bach number of Die Musik brought forth the expected panegyrics upon the works of that great master, which by their excess of zeal rather displeased the reviewer of the Kunstwart magazine. Read More

Suggestions for Chord Playing.
The first time I heard Mr. Leonard Borwick I was astonished at his chords. "How does he do it?" I said. The chord did not seem to be struck at all, but grew out of the building somewhere, and filled the air with sound, being really much louder than the banging of many artists. Read More

A Soirée at Richard Wagner's
Suddenly Liszt interrupted the animated conversation. The Countesses Schleinitz and Usedom led him toward the piano. He did not seem to resist at all, but rather wished to go. With daring I forced my way through Liszt's encircling clouds of tulle, gauze and other transparent fineries near by the instrument, so that I stood directly by his side. The Duke of Meiningen did the same, also Niemann, the hero- tenor. A breathless silence followed. Read More


What Does the Layman Hear in Music?
How does music sound to the other man? This is a question which musicians may find it profitable to ask themselves. If it is possible to find an answer, it is obvious that much information of value to the artist, the teacher, the writer on musical subjects, and to the layman and amateur, from whose ranks such representative audiences as those which gather from week to week at the Thomas Orchestra concerts are so largely recruited, may be disclosed. Read More

The Great American Composer. The Where, the Why, and the When
What will be the distinguishing marks of the American composer, when he actually reaches us in a complete way? Will he speak a dialect peculiarly American? Will he stand out as a reformer? Will he confine himself to American subjects? Will he address himself to the popular taste or to those who really know music? Read More

Repertoire and Program-Building
Pianists, of who are about to "finish" their education in the private studio of a master, or graduate from a conservatory of music, are apt to look upon that event as "the end of all things." It is, however, only the close of one chapter of their careers, and proves often to be only the preface, the beginning, rather than the finish. Read More

A Little-Known Portrait Of Handel


In an ante-room of Sir John Soane's Museum, Lincoln's Inn Fields, is a medallion portrait of Handel which is practically unknown. No biog­rapher of the master refers to it, and we believe this presentment of the great composer has never before been published. Read More

The Making of an Artist - The Views of Alfred Reisenauer.

When I had reached a certain grade of advancement it was my great fortune to become associated with the immortal Franz Liszt. I consider Liszt the greatest man I have ever met. By this I mean that I have never met, in any other walk of life, a man with the mental grasp, splendid disposition and glorious genius. Read More



How an Opera was Written.

"Do not worry," the young wife pleaded; "in spite of our poverty we have so much for which to be thankful. We are both strong, have each other and our sweet child. Think how it would have been if death, so near a few months ago, had separated us and laid me in an early grave!" Read More


Things Which Count.
The concentrated work of ten minutes (dearly bought) is worth a day of half-hearted labor when time is at a discount. Such effort leaves an impress of strength and a habit of research upon a man's life, which counts in his struggle for success. Read More

Schumann's Fantasy Pieces, Opus 12

Schumann's grandest visions of beauty are apparently seen "as through a glass, darkly." His thoughts seem at times too big for his musical vocabulary. Or rather perhaps his ideas are poured forth from the volcanic depths of his genius, in a molten state, too rapidly to solidify into separate forms; but intermingle, overlapping and blurring each other. Read More


Suggestions for Sight Reading Practice.
Read in advance of the fingers. Do not leave one chord before the next is in the "mind's eye." Read More

A Plea For Broad-Mindedness.
BY CHARLES E. WATT. Don't imagine that what you know on any topic is all that any one could possibly know, and don't believe for a moment that your way of doing a thing is the only effective way. There… Read More

The Value of Imagination.
The imagination is not confined to artists and poets alone, but is possessed by all mankind; therefore it must have its part to play in our lives; this being admitted, it follows that the imagination needs a proper and careful training and cultivation. Read More

The Modern Virtuoso.
The virtuoso faces two conditions—the spirit of the times and the limitations or possibilities of the instrument. To deal primarily with the day, it is obvious that everywhere we find the tendency to restlessness, to emotional outbursts, to the ruggedness of the elements, and music perhaps more than any other art has received the outpouring of this intense condition. Read More

The Selection of Teaching Music.
It is curious what a tendency there is for a teacher to run into a rut in the selection of the same pieces over and over, year after year. Read More

The Musical Education of the Young, by Jacques Dalcroze.
Jacques Dalcroze, the eminent Swiss composer and pedagogue, has advanced ideas as to the musical education of the young. In view of their originality and suggestiveness, it seems worth while to make an abstract for the benefit of the readers of The Etude of a recently published article which he wrote for a German periodical. Read More

Sepperl The Drummer Boy
In the May and June issues of THE ETUDE we gave two short sketches relating incidents in the early career of Haydn. The present instalment takes him to Vienna as a member of the choir of the Cathedral, and shows the sad state in which he lived at the beginning of his professional career. Read More

A Program for School Children. Correlating the Study of Music With That of Geography.
Much has been said and written on the subject of correlating the study of music with the other school studies, with geography, history, nature studies, etc. Every school principal is in favor of the idea, some even enthusiastic over it, but always this argument has been brought against it—it means more work for the school teacher. Read More

A New Piano for Children.
It has frequently been objected, and with much justice, that it is barbarous to make young children practice for any length of time on the piano. In general, practicing ends in exhausting the child both physically and mentally. If, however, it is desired to have the child study the piano, practice is necessary, and as far as possible this requirement should be met. These considerations are the basis of an article by Prof. Zabludowski in a recent number of the Blätter für Volksgesundheitspflege of Berlin. Read More

Sisters of Great Composers - Fanny Mendelssohn Hensel.
The two children, she the elder by nearly four years, had the same musical training, first from their mother and later from a number of excellent teachers, among them the severe Zelter, the friend of Goethe, who taught them composition. They went hand in hand. Read More

A Pleasant Class Review.
Often a teacher wishes to review the work of the year in musical history only to find that the words "review and examination" are not pleasant in the ears of her students. Here is a plan I have tried and found very helpful, and at the same time a delightful way to spend the Club afternoon. Read More

Let the Children Sing.
The directors of children's classes should make vocal music a feature of the club work. Simple little pieces, solos, unison choruses, motion songs, staged or unstaged, are delightful features of the work possible for all teachers to introduce. Read More

How A Favorite Hymn Was Written
The young readers of The Etude will be pleased to read about the making of that much-loved hymn, "In The Sweet Bye and Bye." Read More

Music and Childhood
Music and Childhood - An Illustration Read More

The Piano
Poetry by Archibald Lampman. Read More

On Developing the Musical Taste of the Public
We present the thought that so far as music is to interest the great public the taste of the latter must be gently and tactfully led, not antagonized and forced upward. Read More

On Transient Musicians and Teachers
THE past two or three years have brought to this country a number of musicians and teachers who will, for a time at least, be connected with American musical education. Read More

On Europe as a Summer Music School
JUDGING from the number of teachers, players and freshly graduated pupils who go abroad every summer, Europe may become a great summer music school for American musicians. Read More

The Free Summer Hours
THE free summer hours should be used by the teachers to "brush up" on one or more subjects connected with their work, such as harmony, analysis, the literature of piano playing, biography and history. Read More

On Decrying the Music of Sunshine
One may sneer at the alleged "shallowness" of Mozart and the formal elegance of Mendelssohn—and these composers here represent the whole school of writers of this style—but they help to maintain the balance and to restrain the art from toppling over into psychic disquisitions and gloomy ponderosities. Read More

On the Probability of a Distinct American Note in Musical Composition
It is probable that, through natural and unconscious development, music composed by Americans will come, gradually, to possess characteristics differentiating it from that written by Italians, Russians, Bohemians, etc. This will not be brought to pass just by wishing, or by conscious striving; such things do not so happen. Read More

Recitals.
There isn't very much that is new to be said either for or against the practice of periodically bringing pupils forward for a test. Probably no argument against it could offset the value which the pupil has gained by such an experience; but if there are arguments against it, they should be presented. Read More


Loyalty.
Loyalty is based, not alone upon good intentions on the part of the teacher, not upon congeniality between teacher and pupil, but upon the teacher's ability to command first, interest, then obedience, and then results. Read More


Smatterers.
Why not organize a "Smatter Club," its membership to be composed of persons who confess with nonchalant air, that they have just a smattering of this or that. Read More


A Great Work For The Teacher And Singer
The Italian School of Florid Song, By Pier Francesco Tosi. Imported by Charles Scribner's Sons. $1.75 net. Read More


The Americanization of the European Opera Stage.
The so-called American invasion of the European lyric stage is a comparatively recent event. Sixty years ago, when the Jenny Lind furore was at its height, American opera singers were scarcely known in Europe; towards the latter end of the last century, the pay-sheets of the Metropolitan Opera Co., New York, and of Covent Garden, London, contained a large proportion of American women artists; and to-day, though transatlantic tenors, baritones and basses are seldom heard away from their own country, the American prima donna has become a most important personage in the operatic world. Read More


A Question.
It is the natural ambition of students to go to Europe; but what is the object or idea in going? Do they have a definite idea as to what they are going for? From my association with the student colony in some of the largest cities of Europe, I should say they have not. Naturally there are exceptions. Read More


What is a Sight Reader?
There are numerous "methods" of sight singing, and while they differ considerably, especially in the names of things, they all demand a good working knowledge of staff notation, and the ability to read intervals in any key, in both the G and F clefs. Read More


Choral Societies and Their Progress.
What a great mission the choral society has, its aim and object being to give the very best, and one of the highest forms of music; so that really it is an educative force, for it puts before the people—sometimes musically unlettered—the choral works of the masters. Read More


The Church Organist and His Duties.
What are the characteristics of the good church organist? It seems to me that the first one is sympathy with a religious service. I do not mean by this that the organist must be a communicant of the church where he plays, or indeed of any church, but I do say that he must be a man whose life and habits of thought are such as to make him sympathize with the purpose of religious service. Read More

Expression in Choir Singing.
We should have far better choral singing if each singer could bring himself to believe and practice this truth:—That the only expression which is really effective is that which is shown by every single voice, and that it is the bounden duty of every choral singer to notice and perform every mark of expression given in the music. Read More

Improvisation.
Those who have listened to the improvisations of such men as Guilmant, Lemare, etc., will remember the progressive interest in their efforts and the evident design (none the less preconcerted because instantaneous) in their workings. The facility of such players is, of course, to a considerable extent a natural gift; but it also implies both a thorough acquaintance with all artificial forms and a constant practice in applying them readily. Read More

Questions and Answers.
The Dulciana was invented by Snetzler about the middle of the eighteenth century, and was of a very soft diapason tone. Since that time the stop has been variously modified, according to the fancy of individual builders, and in a few cases has been made with a string tone of the character of a Salicional. Read More

The Organ Versus the Orchestra
It is a gross error to suggest, as is so often done, that the organ is an imitation of the orchestra. Read More

A Fancy For Dissonant Chords.
Berlioz on Dissonance Read More

Originality.
Originality—as we attempted to elucidate to the violinist just under discussion—is easily attainable by any player, that is, originality as this violinist apprehends, or rather misapprehends, the term. Read More

Brahms and Remenyi.
In a book recently published, entitled "Remenyi, Musician and Man,"* a chapter devoted to Remenyi's early friendship for the great composer will surely interest all violinists. Many things which Remenyi is quoted to have said are entirely new to us. Some of the alleged statements seem, to us at least, incredible. We are in no position, however, to question their authenticity, and since the account of Remenyi's experiences with Brahms is, to say the least, extremely interesting, we reprint it without expressing our own or others' opinions. Read More

A Budget of Letters.
"I am teaching in a village where the people never hear really good music, and do not look upon it as being of much value to any one who does not make it a source of revenue. I wish you would suggest some means whereby I can show people the worth of music aside from its money value. With such argument I believe I could become a more successful missionary of music." Read More

How to Memorize Music.
Quite a number of otherwise talented pupils have difficulty in committing their pieces. I have been able to secure satisfactory results by the "numerical method of memorizing," with even the dullest pupil. It works especially well with pieces which happen to be difficult to commit. Try this system with the next pupil who declares it impossible to memorize music. Read More

One or Two Lessons a Week.
Two important things in which children must have instruction are:—What to practice, and—How to practice. The latter is of even more importance than the former, for the habit of doing a thing correctly can only be gained under the constant guidance of the teacher. Read More

Questions & Answers
Holtzbauer, Ignaz, an almost forgotten composer, was born at Vienna in 1711, a pupil of Fux, the author of the Gradus. A director of music at Vienna, in 1745, capellmeister to various princes, he composed various operas, 'Il Figlio de-lle Selve," "Günther in Schwarzburg," etc., church and instrumental music, now all forgotten. Mozart praised a mass by him, and also an opera. He died at Mannheim, in 1783. Read More

Musical Items
Max Reger, who divides musical attention in Germany with Richard Strauss, is still quite young, being in his thirty-third year. He is a Bavarian by birth and was a pupil of Riemann. He now lives at Munich, and teaches organ and composition in the Royal Academy of Music in that city. Read More

Home Notes.
The Spring Music Festival of Columbia. Mo., Messrs. T. Carl Whitmer and George Venable, directors, was held April 30 and May 1, in Stephens College Auditorium. The chorus numbered 100 voices, the orchestra 32 players. The principal choral works were "The Death of Minnehaha," by Coleridge-Taylor; "Scenes from Olaf Trygvasson," by Grieg. Read More

Recital Programs.
Pupils of Mrs. B. St. John Baker, Adele Hostetter, C. C. Crammond, Charles R. Zeitz, and others. Read More

Coca-Cola Adds A Refreshing Relish to Every Form Of Exercise


Coca-Cola Adds A Refershing Relish to Every Form Of Exercise Read More

The First Lesson of Rubifoam


The First Lesson of Rubifoam Read More