Search eBay for a print copy of the February, 1902 edition of The Etude Music Magazine.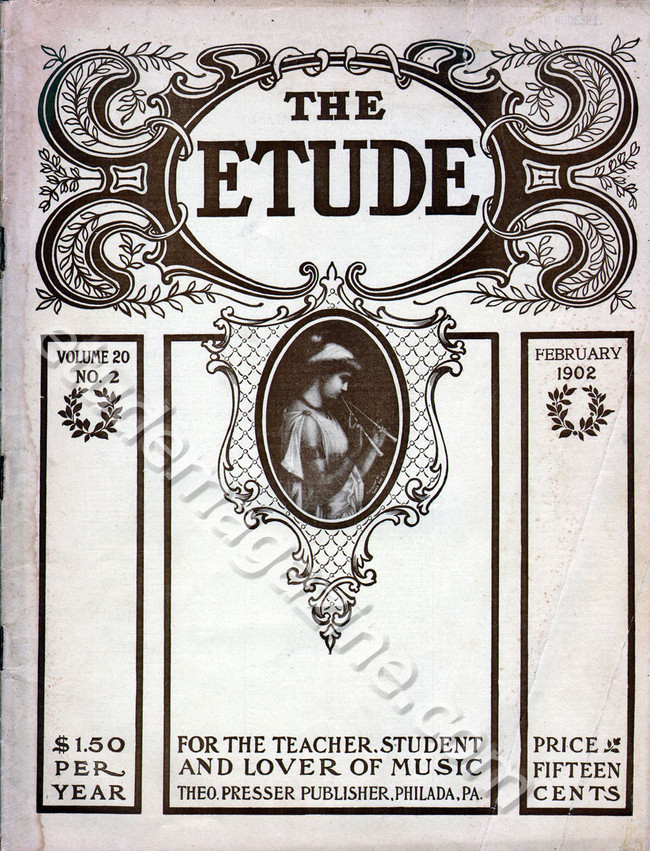 Selected Content from the February 1902 Edition of The Etude

The Tendencies of Music.
It is true that new styles involve new difficulties, but is it not also true that new difficulties are not necessarily greater difficulties? To think Mozart simple of execution is to reveal your ignorance to the observing. The virtuoso who has mastered Brahms is not necessarily master of Bach. Read More

Questions and Answers
E. H.—Chamber-music is music suitable for performance in a small hall, and is distinguished from concert-music by the fact that each part has but a single player; for example, the quartet of strings as compared to the large orchestra, in… Read More

Methods of Organ-Blowing.
Human power, as applied by the means of the ordinary bellows-handle, is used under conditions singularly wasteful. If the muscular power of a man is to be fully available, it can only be when pulling horizontally, as in rowing, and then he must have firm back- and foot- rests. Read More

Uniformity of Organ-Pedals.
The entire meeting was given up to the discussion of the pedal-board, and the majority of those present were in favor of straight and parallel pedals. Another meeting will be held soon in which the matter will be again discussed and plans formulated for the adoption of a standard. Read More

Organ-Programs.
That type of music represented by Batiste and Wely has become almost obsolete, and it is a good sign that the works of Guilmant, Franck, Widor, Tombelle, and others of this class have so completely crowded it out, for there is much that is beautiful, original, and serious in design in the works of these later writers, while the former, though in a certain way effective, and sometimes original, could scarcely claim the attributes of beauty or seriousness. Read More

Church-Cantatas.
A score or more of years ago a form of the cantata was somewhat popular, but as most of the music, while simple in character and within the grasp of the choirs of the day, was more or less inane and devoid of interest to the average musician, the popularity of these cantatas was of short duration. Read More

About The Choir-Boy.
How do choir-duties affect his general life? They make the boy self-reliant. His powers of observation and concentration are developed. A certain action must be performed at a certain time in a certain way. It may not be done a little before or a little after, but it must be done at exactly the right moment; otherwise it is wrong, and the boy immediately realizes by the results that it is wrong. Read More

Popular Hymn-Tunes.
It is quite possible for any melody to become popular by force of reiteration; that is to say, any succession of notes within reasonable compass will, in course of time, be tolerated, then liked, and eventually become 'popular.' Read More

A Personal View of Rheinberger.
As one would expect, Rheinberger's idea of the greatest in organ-music is Bach, given with broad and noble delivery. Read More

Mixtures.
It is a well-known fact that cats are fond of pipe-organs. The writer well remembers a choir-rehearsal in a certain church which has a two-manual organ with tracker action. In the midst of the rehearsal one of the pedal notes began to sound of its own accord, and nothing that the organist could do would stop it. Read More

Musical Items
An organization has been effected in St. Louis, by Mrs. Albert L. Hughey and Miss Marion Ralston called the St. Louis Union Musical Club, whose object is to provide for the musical education of talented young persons who are without means to pursue their studies. The expenses are borne by members of the club, the fee being $3.00 a year. So far the effort has been very successful. Read More

A Word About Strings.
Every player should be provided with a string-gauge, for without one it is quite impossible to select strings of the requisite thickness. Amateurs, and even professionals, often choose thin strings, believing that these enable them to produce a better and more brilliant tone. Read More

Again, the Joachim Bowing.
If I have never said so before, I wish now most emphatically to assert that Joachim is not primarily responsible for the "system" of bowing now in vogue at the Hochschule. It is quite true that he has encouraged others in foolish speculations, and has made no effort to dissuade his disciples from their illogical views. It is even true that his encouragement of the "Joachim Bowing" would seem to indicate his belief in its merits, and that nowadays, at least, he sees no good reason for receding from a position which, originally, he doubtless did not intend to take. Read More

Dollar Fiddle.
Gentlemen, a Guarnerius fiddle is not Fifth-Avenue real estate. Read More

Edouard Zeldenrust On the Training Of An Artist.

Hollanders are making great strides in music. I can say, I think, without being accused of partiality, that as fine concerts may be heard in The Hague as anywhere in the world. I attribute this completely to the German influence. The Dutch are a little slow and phlegmatic; but, if they take to things slowly, they take to them properly. The Dutch are, however, not as slow as they were. Americanism is getting into us too. People are more restless than they used to be; they are less phlegmatic and less quiet. Read More


The Term "Sonata."
A summary description of the modern sonata since the Haydn-Mozart period might be worded as follows: A composition for the pianoforte, or for the pianoforte and one other instrument, oftenest consisting of three movements, sometimes of four, and now and then of two, at least one of them in what has been called first-movement sonata form. Read More

The Choice of Technic for a Composition
The following rather comprehensive query was referred by the editor to Mr. Sherwood. His reply contains much suggestive thought as to the training in higher musicianship such as leads to independence on the part of the player. It indicates a course of training which will make it possible to discover in a composition itself certain clear indications as to interpretation and the choice of technical means to express that interpretation. Read More

Opportunities for the Study and Enjoyment of Music Offered to the Students in a Typical College for Women.
But the music which reaches and influences the entire student-body is that which they produce for themselves. In a large college there are invariably some students who play the piano remarkably well, others who play the violin, some who sing; and the pleasure that these students give their fellows is really immeasurable and invaluable. It usually happens that every "house" possesses at least one student who can "do" something besides play waltzes and two-steps on Saturday evenings for the frivolously inclined, and at every opportunity they are beseeched to "do" it. Read More

"Possum."
The musical clubs where the members are actual workers in that they sing, who really studied for the program, and give instrumental numbers on the same lines, are the clubs that make for culture. Read More

Club-Work in Indian Territory.
"Muskogee is a town of about 5000 inhabitants, and in the heart of the Indian country. Until last spring there had not been an artist-recital in the whole territory. So you see we are doing missionary-work, to a certain extent. Any mention you may see fit to make of our club-work in your magazine, or any favors in the way of suggestions, would be most gratefully received. Read More

A Little Talk About Programs.
Very small clubs do not need to resort to the printer for their programs. Paper which can be cut into any sizes can be obtained in large sheets as the wholesale houses get it from the mills. The genius of the club can then prepare the original exactly as it is to look, and the whole can be reproduced in its entirety by a cheap process of photolithography. Or, better still, each program may be different—a work of art in itself. Read More