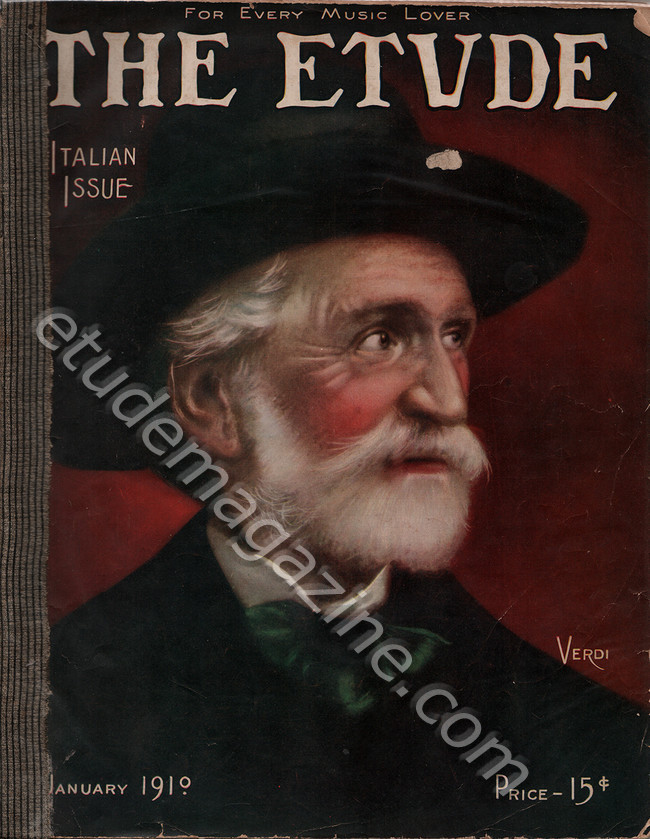 Selected Content from the January 1910 Edition of The Etude
"The Etude" Portrait Gallery and Its Educational Importance

With this issue the first year of the Gallery is complete. Seventy-two portrait-biographies of the masters have appeared and thousands of teachers and students have cut these out as indicated and made scrap books of them. We are pleased... Read More

Short Biographical Notes Upon Italian Musicians
Amati (Ah-mah'-tee). A celebrated family of violin makers of Cremona, sixteenth and seventeenth centuries, of whom Nicoli Amati, 1596-1694, was most noted. Ambrose, St., Bishop of Milan. He lived about 374- 397, and with Pope Gregory was one… Read More

Some Striking Pen Pictures of Rossini.

The prominent place in Italian music attained by Verdi was perhaps only equalled by Rossini. The composer of William Tell did a great deal towards lifting Italian opera music out of the depths of banality into which it had… Read More


Facts About the Famous Italian Musicians.
Bellini's most famous opera, "Norma," was a failure at the first performance, as was Rossini's "Barber of Seville." Busoni, the Italian pianist, made his début at the age of eight. Cherubini wrote, in all, 29 operas. Cimarosa's… Read More

Verdi's Position in Musical Art.
By Lutie Baker Gunn. It was not until he was in his 38th year (1851), when Rigoletto appeared, that Verdi's instrumentation showed any marked care, or that he seemed to be impressed by the variety of effect. … Read More


Italian Writers For The Piano

By JAROSLAW DE ZIELINSKI "The works of great masters are the only school where we may see, and from whence we may draw, perfection."— Charles Avison, in "An Essay on Musical Expression" (third edition, 1775). Italian air,… Read More


The Future of Italian Opera in America
It is very gratifying for me to realize that the operatic compositions of my countrymen must play a very important part in the operatic future of America. It has always seemed to me that there is far more variety in the works of the modern Italian composers than in those of other nations. Read More

Moritz Moszkowski on Himself.
Replying to the request of Mr. Ernst Perabo, of California, for his autobiography, the famous pianist, teacher and composer, Moritz Moszkowski, sent the following satirical letter: "I took my first step before the public in my earliest youth,… Read More


The Paris Conservatory of Music
I have often wondered why it was that in Europe, as well as in America, so little is known of the musical life of Paris and why such erroneous ideas prevail of its character and artistic signification. Though it is no longer as it was in the time of Cherubini, Berlioz, Meyerbeer, Rossini, Auber, Chopin, Liszt, etc., the supreme center of all musical interest, of all the cities in the world it contains the greatest amount of musical talent. Read More

What Music Owes to Italy
It is with a deep feeling of reverence that we commence these paragraphs upon the marvelous benefactions of the astonishing little peninsula which, jutting down into the Mediterranean Sea and continually making us aware of its existence by earthquake,… Read More

Personal Recollections Of Verdi

It has been erroneously stated that Verdi was refused at the Conservatory of Milan because he did not give evidences of talent. This was not the case. As a boy he was wonderfully talented, but at the time he applied for admission to the Conservatory he had not had the technical training sufficient to enable him to pass the requisite entrance examinations. Milan's admiration for the famous composer is happily indicated by the fact that the Milan Conservatory has been renamed the Verdi Conservatory. Read More


Recital Programs
Music That Progressive Teachers Have Found Desirable Pupils of Miss Alice Beiderlinden. La Chasse aux Gazelles (4 hds.), Calvini; Morning Greeting, Gurlitt; Voice of the Heart, Van Gael; At the Pianoforte, Gurlitt ; Heather Rose, Lange; A Request,… Read More

Helping the Dull Pupil.
By Florence Ruella Kelly. One of the great successes of the past theatrical season has been a play known as "The Climax." This play is in reality a kind of dramatized music lesson. In it the old music… Read More

World of Music
At Home. Myrtle Elvyn, the Chicago pianist, made a successful début in New York. DALMORÉS, the French tenor, is a first-rate athlete and boxer as well as a singer. Louise Homer recently gave a recital of her… Read More

Helping the Shy Pupil
Helping the Shy Pupil By A Teacher The shy pupil is a fit object for compassion, and her teacher is equally entitled to commiseration. Shyness militates against the exhibition of talent that may be quite remarkable, and… Read More

Musical Genius in Youth
It was Vincenzo Bellini who once said, "Genius seems indeed to have smiled upon great musicians in their youth," and according to the biographers of the famous composers he was right. The great maestros, with rare exceptions, have shown their… Read More

Italy's Musical Influence on Other Nations
By ARTHUR ELSON It is undoubtedly true that Italy has been the most important nation in musical history. Other countries have usurped her place in the last century or so, but her supremacy was of long duration, and… Read More


Some Piano Transcriptions of Numbers from Famous Italian Operas

By the Eminent American Piano Virtuoso WILLIAM H. SHERWOOD A few days ago an estimable lady, who has been one of my neighbors, asked, "Who do you consider the greatest composer? Is it Verdi?" Naturally, I answered that… Read More


Historical Review of Italian Musical Art from the Beginning to the Present Day
By FREDERIC S. LAW I. GREEK MUSIC IN ITALY. For its earliest musical art Italy had to thank the Greeks, the artistic people par excellence of antiquity. Greece, indeed, occupied much the same position that Italy held fifteen… Read More