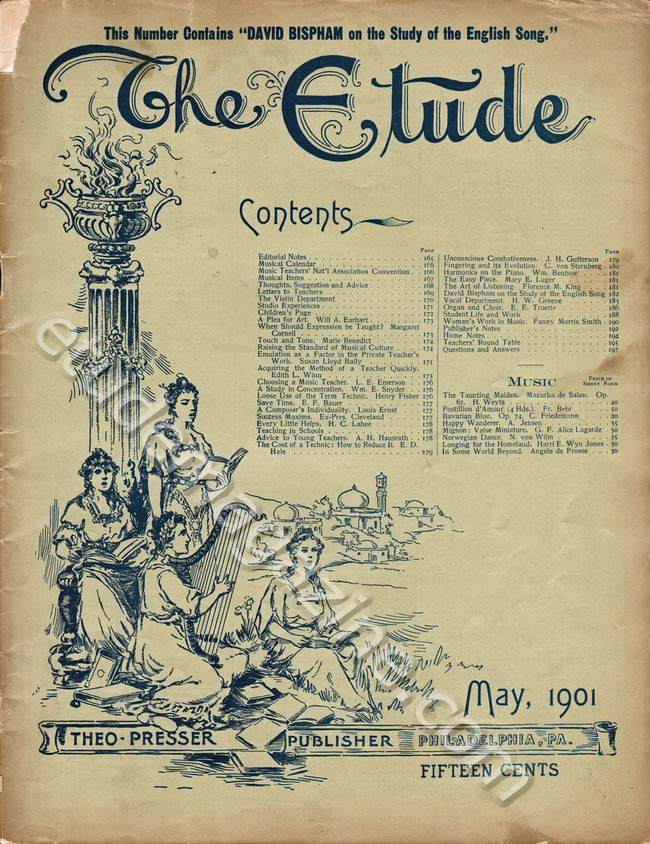 Selected Content from the May 1901 Edition of The Etude

Questions and Answers
E. S. A.—The Chopin "Etudes," opus 25, may be taken up in the following succession: Nos. 2, 3, 1, 7, 4, 5, 10, 6, 8. H. M.—The movement of common chords is generally free within the circle of related keys,… Read More

A Belated Letter Addressed to the Convention of the Federation of Musical Clubs by the Editor of Woman's Work In Music.
Edited by FANNY MORRIS SMITH Once a very good New England woman was heard to thank her Creator that He had placed all the great rivers beside the great towns. This tale, which we heard Emerson relate in a lecture,… Read More

My Experience.
Music-study classes and analytical lectures of all sorts are almost too common now to be written about, but I would like to relate a pleasant experience I have had in this line, one which bids fair to bear good fruit… Read More

Musical Literature for Children.
How to interest children in work which will improve them is a subject of no little study, not only to mothers, but to teachers who have the advancement and development of young minds in charge. The responsibility which rests upon… Read More

Men and Women Teachers.
The subject frequently comes up for discussion as to which makes the best teacher, the man or the woman. The writer will probably be accused of partiality to her own sex if she claims for the woman a knack and… Read More

More Intelligent Listeners.
Madame Rive-King, one of America's most notable pianists, was asked her opinion of musical advancement during her concert-career. She said: "I find a very noticeable increase of people who hear intelligently, and an artist senses this intelligence as quickly as… Read More

Musical Items
Paderewski's son, a cripple from birth, to whom the pianist was passionately devoted, died in March. Foreign papers announced that all of Paderewski's engagements for this season and next were canceled… D'Oyly Carte, a well-known operatic manager of London, died April 3d. He was best known for his successful combination with Gilbert and Sullivan to produce their operas… It is expected that the new building for the New England Conservatory of Music, Boston, which is to be erected at Huntington Avenue and Gainsborough Street, will be ready in September, 1902. It will contain two auditoriums with a seating capacity, one of 400, the other of 1000. Read More

National Federation Of Musical Clubs. News of the Federated Clubs. Northern Middle Section.
The Polyhymnia Club, of Saginaw, Mich., will give its last subscription concert early in May, with Joseph Baernstein as soloist. It will be remembered that this is the club that has a May Festival well under way for the 20th… Read More

Mr. David Bispham on the Study of the English Song.

This is the first of a series of talks with prominent artists which Mr. William Armstrong, the well-known critic and writer, has obtained for The Etude. The next will be "The Study of the German Song," by Mme. Schumann-Heink, to be followed by M. Pol Plancon on "The Study of the French Song," and Mme. Lillian Nordica on "Woman in Music," particularly addressed to the American girl music student. Read More