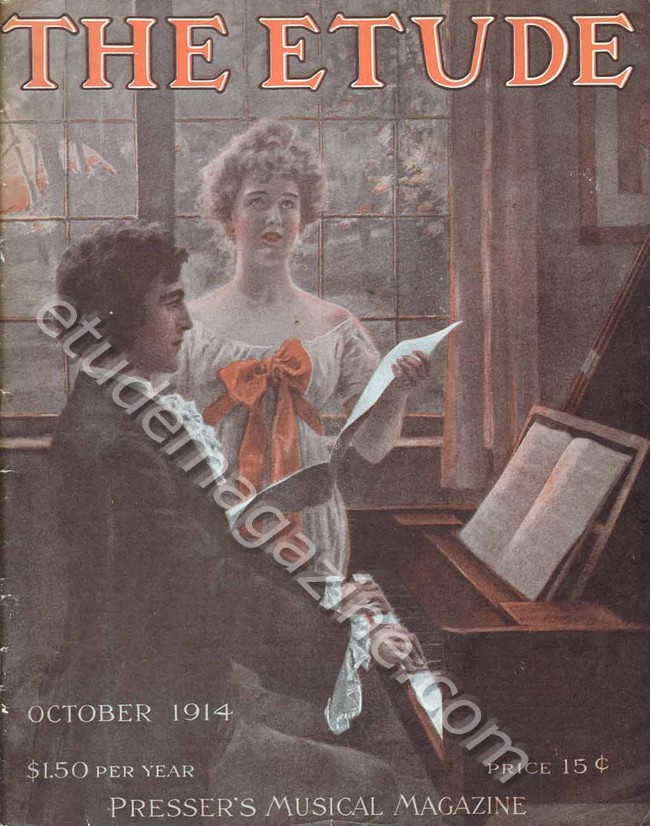 Selected Content from the October 1914 Edition of The Etude

Musical Thought and Action in the Old World.
While mediaeval music was confined to monasteries, the women had little share in it. But when it became a more popular affair, they began to play their part in creative work as well as in performance. The Troubadours are remembered as men; but such famous women as Eleanor of Acquitaine and the Countess of Champagne were held to belong to their ranks. Read More

The World of Music
Sir Edward Elgar is among those who have offered their services as special policemen in England. Many of the regular police are reservists and have been called for service, hence the formation of a body of police from among the general public. There will probably be enough of the regular police retained to do the routine police work, and it is unlikely that Sir Edward will be employed to run in the "drunk and disorderly." Nevertheless, as the London Musical News points Out, he is sufficiently familiar with the uses of the staff. Read More

Johannes Brahms and Johann Strauss, Jr.

Brahms was much more of a human being than are many of his admirers. His love for children is well known, and one can well believe the story told by a young American lady, traveling in Europe in 1895, that "We saw Johannes Brahms on the hotel verandah at Domodossola, and what do you think! He was down on all fours, with three children on his back, riding him for a horse." Read More


Save Beethoven from His "Friends!"
One author, Wasielewski, has had the courage, in his remarkable "Life of Beethoven," to tell the plain truth about these sonatas. They were written, as he points out, at the time when Beethoven was completely absorbed by his Missa Solemnis, which left him little time to bestow on these piano pieces. Moreover, in these last years of his life, he had lost his interest in the piano, which he referred to contemptuously as a "clavicembalo miserabile;" while on another occasion he remarked that the piano "is and remains an insufficient instrument." Read More

Tomorrow.
With the navies bursting in the air and sinking in the deep, with cannons drinking the life blood of the nations, with armies devouring the riches of centuries, whence will come the support for the Schuberts, the Daudets and the Brownings of tomorrow? Read More

What Is the Good of Books?
Musical books might be classified in many ways. Let us try one grouping which may throw light upon their intrinsic worth. Read More

A Significant Inaugural.
From time to time the readers of The Etude have been acquainted with the progress of the new building of the Home for Retired Music Teachers at Germantown, Pa. Read More

Puzzle:—Famous Pieces in Thumbnail Pictures


… Read More

Some Violin Questions Answered
It is a great misfortune to choose a profession for which one has not the requisite talent. You had best go to a really first rate violinist, one with a reputation in the musical world, and pay him a fee to examine you as to talent, and to advise you. Such an examination might save you years of misapplied labor in a profession for which you are not fitted. Read More

Some Interesting Facts About Frederick Kuhlau.

In the autumn of 1825, Kuhlau visited Vienna and spent a lively day with Beethoven, who then lived at Baden, close by. The two friends and some other congenial spirits had a picnic in the open, at which, inspired by good cheer, Kuhlau and Beethoven vied with each other in improvizing canons. Read More


A Concise Biographical Dictionary of Noted Composers Who Have Written Music in Lighter Vein. The Salon, The Dance, The Operetta.
Lysberg, Charles Samuel (real name, Bovy). Born Lysberg, Switzerland, 1821; died Geneva, 1873. Pupil of Chopin, an excellent teacher and the composer of many excellent piano pieces, including Baladine-Fountain, Awakening of the Birds. Read More