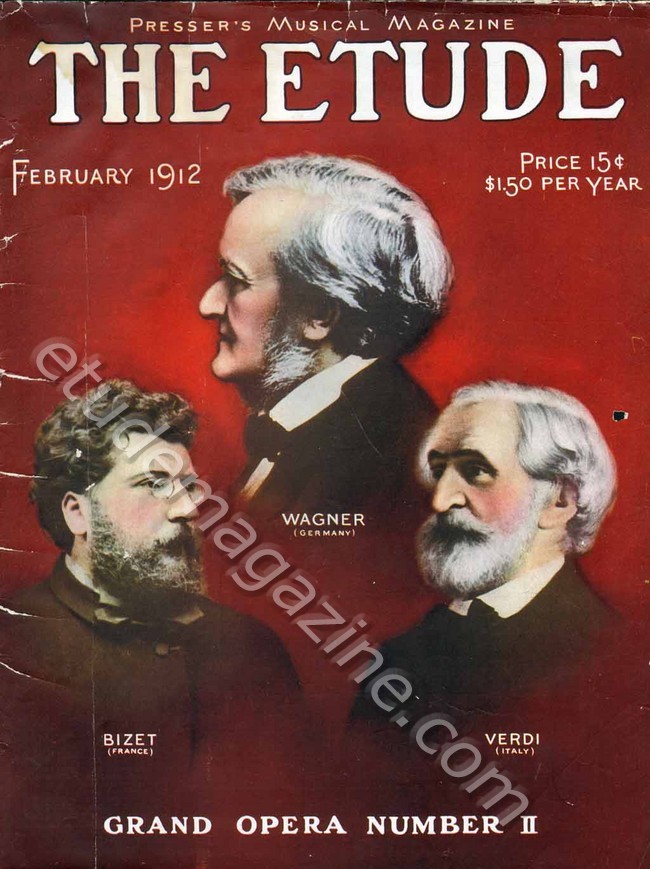 Selected Content from the February 1912 Edition of The Etude
The Etude Gallery of Musical Celebrities

WILLIAM VINCENT WALLACE. Wallace was born at Waterford, Ireland, July 1, 1813, and died at the Chateau de Bergen, in the Pyrenees, Oct. 12, 1865. The family migrated to Dublin, and Wallace soon became known as a violinist, organist and... Read More

Questions & Answers
Q. I am having an awful time with my fingers. In winter they crack open at the tips and commence to bleed. This is particularly the case when I have had much practicing to do. The doctors don't seem to… Read More

The New Presser Building. January, 1912.


The New Presser Building. From Photograph taken January 1, 1912. Read More

The World of Music
The death of Eduardo Missiano, a singer of the Metropolitan Opera Company, has brought to light an interesting story. He was the son of well-to-do parents, and when a boy used to go in bathing in the Bay of Naples. Here he met Caruso, then a poor boy. Missiano sympathized with Caruso's desire to be a singer and with the fact that Caruso had no money to pay for lessons. "Never mind," said Missiano, "I know a teacher who will give you lessons for nothing. I am a paying pupil of his; he will do it for me." Caruso was so nervous when the time came that he sang badly, and the teacher told him it was no use. "Give him another trial," pleaded Missiano. "He is tired and nervous." The teacher consented, with the result that he gave Caruso the instruction which laid the foundation of future success. Years later the wheels of fortune had reversed. Caruso was rich and successful while Missiano had the misfortune to lose all his wealth. The fact became known to Caruso, and the great tenor persuaded Gatti-Casazza to give Missiano a trial. The trial was successful, and Missiano sang second parts in many of the operas. Read More