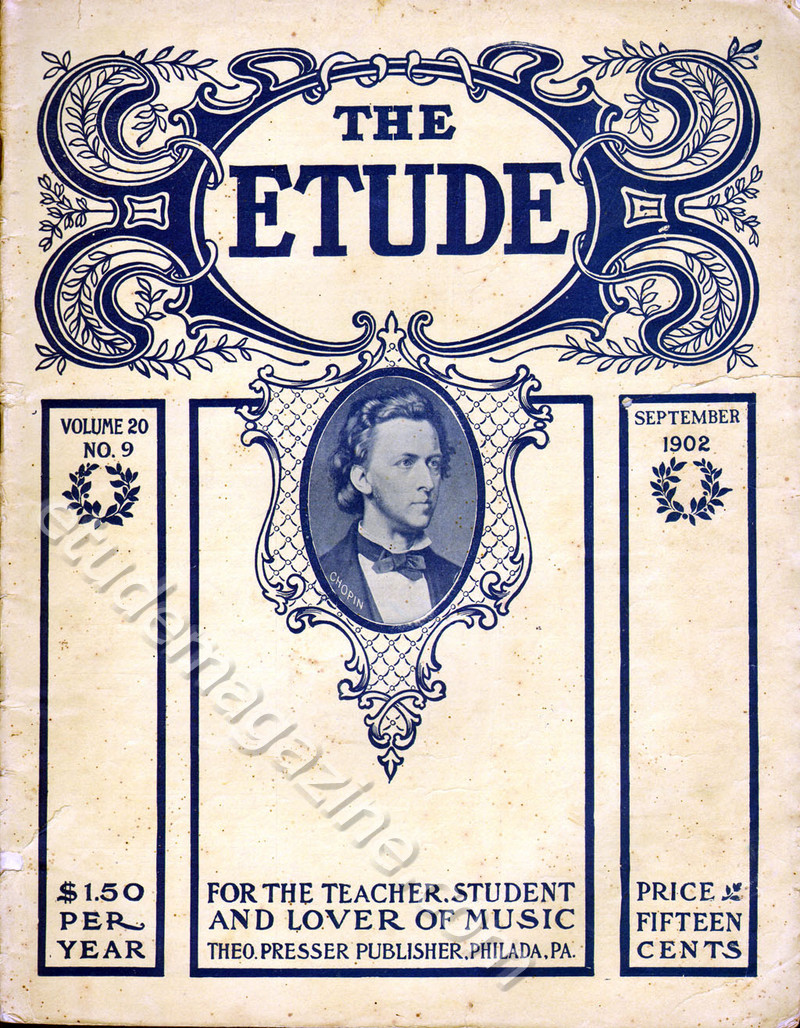 Selected Content from the September 1902 Edition of The Etude

Accompanying Singers.
It is not easy to give directions for this most rare accomplishment. There are so many sides to it and conditions confronting it that a book could and should be written which would, as far as possible, exhaust the subject. Let us first consider the accompanist, and, because so many more women than men aim to succeed in this field, we will designate her as she. Read More


The Awakening.
Some awakenings are gradual. The dream of success has not been a troubled dream, but a season of repose interspersed with moments of self-sacrificing effort. The gifts, however, were so abundant that even such efforts gave a respectable harvest of… Read More


The Technic of Vocal Expression. No. III. Tone-Connection.
The principal varieties of tone-connection in singing may be classified as follows: Legato, Portamento, Marcato, and Staccato. The term Legato is from the Italian legare, to bind, and indicates a tone-connection where the pitch of one tone begins directly at… Read More


Study in Phrasing. I.
Because of the intimate relations of poetry and vocal music there is much light to be cast from verses upon tunes, and from tunes upon verses. As soon as we begin to set words in order, into feet, lines, and… Read More


Why Am I So Stupid?
This question was asked me some time ago by a pupil who for years had been singing with a very tightly constricted throat, so much so, that the quality was very harsh and poor, and there was very little power…. Read More


Operatic Voices.
W. J. Henderson clears up some of the fog of adulation that exists around the present-day opera-singers. He writes in his department of the New York Times: The unthinking worship of the opera-singer has its origin in the supposition that… Read More


How the Voice Looks.
Prof. E. W. Scripture contributes an article entitled "How the Voice Looks" to a recent number of the Century. Professor Scripture is director of the Psychological Laboratory of Yale University, and if his views are accepted there promises to be… Read More


Questions and Answers.
The question received relating to accompanying singers was so pertinent to present conditions that I have made an extended allusion to it in the article heading this department. Ida H.—The Baritone, when singing from a treble score, pitches his voice… Read More


Sir Alexander Campbell Mackenzie and the Royal Academy of Music, London.

The composer is worse off than any other branch. If he writes the highest and best, he cannot publish, and he must teach or sing low to get a living. The music now published, however, is much better than was the case in the past, and there has been a great awakening and extraordinary change in the last fifteen years. Read More


Music-Clubs and Their Pitfalls
It can hardly be said that the clubs are getting ready for work, for as yet those who give the most active work and thought to the welfare of these organizations are resting up for the coming season. The growth of the musical-club fad, if so beneficial a function may be termed a fad, is nothing short of remarkable. Read More

True Meaning and Value of Creative Work.
Whip the lagging interest into active curiosity if nothing else. Hermann Ritter is known throughout Europe as a wonderful lecturer on musical history, yet it must be said that he spends three-fourths of the lesson-hour in relating apparently irrelevant stories that seemingly have little bearing on the subject. Read More

Recital Programs
Pupils of Monroe School of Music (from 10 to 15 Years Old).Marche Héroique, Op. 27, No. 1 (3 pianos and orchestra), Schubert. March aux Flambeaux, Scotson Clark. Overture, Figaro (2 pianos), Mozart. La Grace, Op. 302 (4 hands), Bohm. Valse… Read More

Musical Items
The governmental subvention of the Prague Conservatory is $8000 a year. An opera has been written by an Italian composer in which Lord Byron is the central figure. Johannes Weidenbach, one of the oldest teachers in the Leipzig Conservatory, died… Read More

Essential Characteristics of Teaching Pieces for the Lower Grades.
W. S. B. MATHEWS. Every experienced teacher necessarily formulates in some interior part of his mind certain elements which he thinks pieces ought to have or not have for pupils in the early stages of learning. Yet it is rare… Read More

Theodore Dubois
Theodore Dubois was born in Rosnay, Maine, August 24, 1837. He entered the Paris Conservatory at the age of 16, studying under Marmontel, Benoist, Bazin, and Ambroise Thomas, graduating in 1861 as "Prix de Rome" with the cantata Atala, after… Read More

Women as Organists.
Women have yet to make a decisive mark in the world as organists. Despite the rapid strides they have made with regard to other instruments, comparatively few can play the organ really well. By this I do not mean the… Read More

A Chinese Organ
The cut below represents a Chinese organ, or cheng. The pipes are generally twenty-four in number, and are made of bamboo. They are inserted in the gourd of a calabash, which serves as a windchest. Each of these pipes is… Read More

Senza Pedale
The occasional use of the organ, without pedals, has been touched upon in this department. This matter is of considerable importance. All works on organ-playing—and, in particular, on organ accompaniment—give many practical and useful suggestions in this direction, which appear,… Read More

Purchasing Church-Organs
George Whitefield Andrews has the following article in the Chicago Advance relative to the purchase of pipe-organs:We cannot commend the custom of buying an instrument without expert counsel where it is possible to obtain it. This need not involve expense…. Read More

Mixtures.
Carl Piutti, one of the best-known organists and composers of organ-music in Germany, died recently in Leipzig, where he had been organist of St. Thomas' Church for more than twenty-five years. He was an instructor in the Conservatorium and had… Read More