Search eBay for a print copy of the February, 1901 edition of The Etude Music Magazine.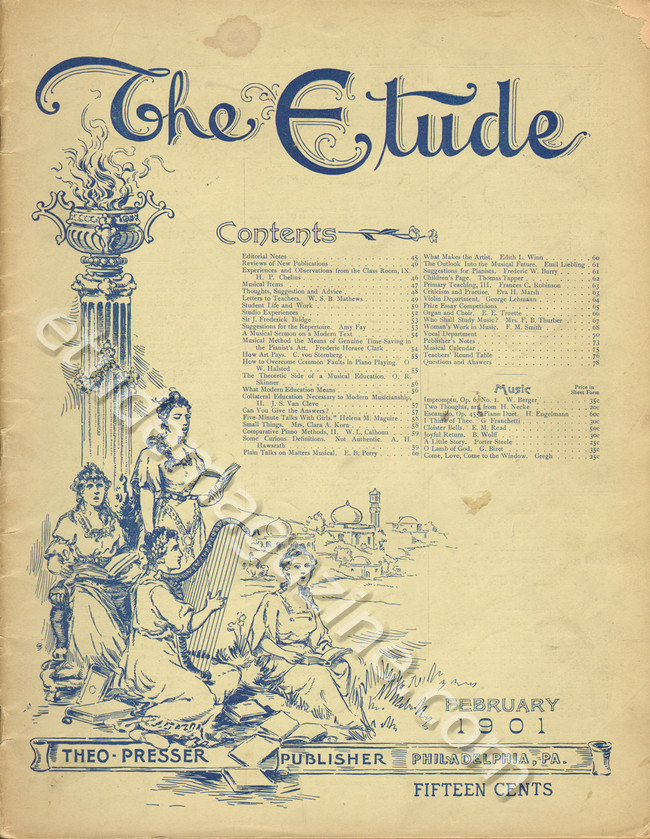 Selected Content from the February 1901 Edition of The Etude

Special Notices
AN EXPERIENCED TEACHER OF VOICE DE- sires position in school. Address: X, care of Etude. FOR SALE, ORGAN. A LORING & BLAKEPalace Organ. Two manuals, twenty stops, and full set of pedals. Price, $175.00. Address: 240 Quincy Street, Brooklyn, N. Y…. Read More

Questions & Answers
When the muscles and tendons of the hand have become strained, the condition is a serious one, and care must be exercised to avoid permanent disability. A physician would naturally, as in your case, advise rest. Yet this difficulty has existed before and has been conquered. Read More

Repertory V.

It is deeply to be regretted that the balance that usually accompanies maturity is wanting in Madame Marchesi, and the lustre of great attainment is dimmed by her inability to yield graciously to the amenities of increasing years. Read More


Enunciation in Singing. III. Consonants (Continued).
The consonants that are made by lip action are about the simplest of all because the action can be so distinctly seen. Read More


Wagner and Vocal Art. A Word to the Student. III.
If Wagner had done nothing more than to emphasize the importance of the text in singing, this alone would have been a great advance in vocal art. Read More


Some Suggestions Regarding Interpretation.
So much has been written upon the subject of voice-production that it would seem as if the interpretation of the music to be sung, is largely lost sight of by those who write upon the subject of singing. Many a student succeeds in developing a more or less good voice, and yet, when that is done, is very much in the same position as would be the non-musical owner of a piano or other musical instrument. Read More


A Tenor's Trial.
His soul yearned for Chicago, the Mecca of so many musical pilgrims, and he constantly looked forward to a choir position there, after which he felt sure (poor fellow!) that the rest would be easy enough. His discouragements had been many, and another man would have given up in despair; but here at last was his reward, a telegram from a friend urging him to come to Chicago at once and try for a tenor position at the Street Church. Read More


Questions and Answers.
The question has again and again been asked as to the proper age for young girls to begin the study of singing. To guard against being misunderstood, I am going to state frankly and with due appreciation of the importance of the subject, that the entirely safe age to begin is from six months to a year after the change has occurred from childhood to womanhood. The safety must then depend upon the skill and extraordinary care of the teacher. Read More


Musical Items.
A Rubinstein museum is to be opened in the St. Petersburg Conservatory. New York teachers are receiving pupils from Cuba, Porto Rico, and Hawaii. Jean de Reszke sang in New York last month. Critics say he was never in better… Read More