Search eBay for a print copy of the December, 1897 edition of The Etude Music Magazine.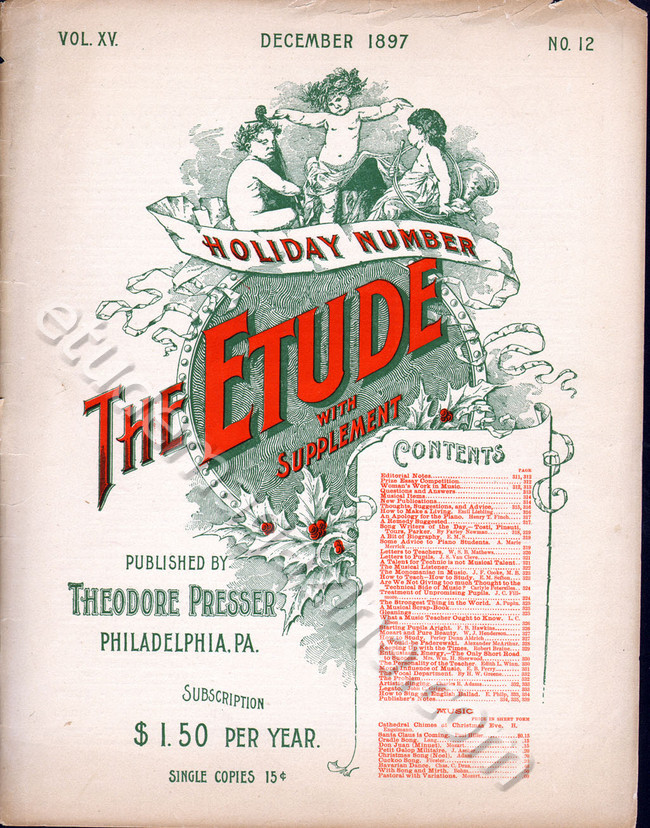 Selected Content from the December 1897 Edition of The Etude

Enthusiasm; Energy; The Only Short Road To Success; The Divinity Of Music.
Musical literature covers a field of genius, intelligence, and emotion which, it seems to me, can be equaled by no other literature in the world. Hardly a thought which the mind of man has conceived but has been focused and set to music. Read More

The Problem.
"Now that I am a singer, how shall I advance myself?" said a young woman to her professor, not long after she had made an appearance, earned a bit of money, and scored a success. The tactful teacher knew better… Read More


Artistic Singing.
BY CHARLES R. ADAMS. There are many beautiful voices in America which the public never hears, because they are never brought to the perfection, or to a quarter of the perfection, of their possible beauty. I will try to explain… Read More


Legato.
BY JOHN C. GRIGGS. Through all the confusion that obtains in regard to the terminology of vocal study, a certain general distinction exists in the minds of all between method and style. Method, I believe, is generally accepted as designating… Read More


How To Sing An English Ballad.
Elizabeth Philp, an English song writer of some distinction, has published a small book, giving the text of the various poems she has set to music, and prefaces them by advice to students on ballad rendering. It has never been… Read More


When Vocalists Should Eat.
Among the questions which vocalists have to settle for themselves is that of eating. Some of the greatest singers of the world can not sing for hours after they have eaten, while others must eat almost the last thing before… Read More


Song Writers of the Day.

BY FARLEY NEWMAN. FRANCESCO PAOLO TOSTI is by no means the least fortunate of the many sons of the sunny south who have been successful in converting the note of Italia's classic lyre into coin of the realm. Signor Tosti… Read More


Moral Influence of Music.
The eminent musician is necessarily subject to a thousand seductive temptations of which the average burgher never even dreams, and to which his peculiarly sensitive, impressionable, nervous organism renders him exceptionally susceptible; but his temperamental vulnerability would not be lessened, indeed would probably be increased, by forcing him in early life into some other less congenial occupation, and so denying to his extreme moods this natural and legitimate channel of expression, while his temptations would be just as great and as numerous if he were equally eminent in any other line. Read More

Editorial Notes
But, perhaps, the worst sin of the amateur is that he "plays" at playing the church organ on Sunday, taking the position from a good professional because he underbid him. The professional lives by and through his music, while the amateur lives by activities outside of music. Read More

The "Eagle" Graphophone


Read More

An Apology For the Piano
BY HENRY T. FINCK. Professional musicians have an inveterate habit of decrying the pianoforte as being inferior not only to the human voice, but to the violin and other orchestral instruments. In this allegation there is some truth and… Read More

Musical Items
CHAMINADE played in public last month in London. CLARENCE EDDY will make a European tour this year. THE Czar will knight Eduard and Jean de Reszke, the well-known singers. JOSEF HOFMANN will be substituted for Rosenthal in most of… Read More

Woman's Work in Music
"The tendency of the present day to bring forward every woman worker simply because she is a woman, I think does much harm. It merely places a premium on mediocrity, and encourages a host of women who are not fitted either by nature or by education to do any valuable work for art, into striving for a species of cheap notoriety." Read More

Editorials
The cry to give the American composer a chance is heard periodically. It may be true that the public like best that music that has a flavor of -ski, -off, -ini, -ade, etc., but it is difficult for an impartially-minded judge to believe that it is only a predilection for "importations" that causes this state of affairs. Read More

What a Music Teacher Ought to Know.
It is scarcely a generation ago that there existed a genus of music teacher in America, a strange, tone-producing animal, who knew very little. To this homunculus the word "harmony" meant a knowledge of the tonic, dominant, and subdominant chords; for him the circle of the keys became a semicircle, extending from three flats on the one side to three sharps on the other. This compound of arpeggios and arrogance was always called "Professor," and would have parted with his head rather than with his title. Read More

The Monomaniac In Music.
Mr. Stanley Whitman, the eminent English sociologist, in one of his works makes reference to what he claims to be a well-known fact: that a musician may have a recognized position among his fellows and still be quite a fool in the eyes of the world. I am a little surprised to see so able an author commit himself in this manner. Read More

The Musical Listener
Eight out of every ten do not yet pronounce Paderewski properly, putting an f in the place of the w, or De Reszke with a t where stands the s, and the prospect of committing to the general memory a half dozen more like those given above during the coming year is discouraging; but, as we agreed at the start to be cheerful in this issue, we must laugh over our own mistakes as well as over everybody else's. Read More

Keeping Up With the Times.
I hear so many musicians say that they have given up all practice because they are getting old and their fingers are stiff. If the matter is investigated, it will be pretty generally found that their fingers are getting stiff through lack of regular, systematic practice, and not from advancing age at all. Read More