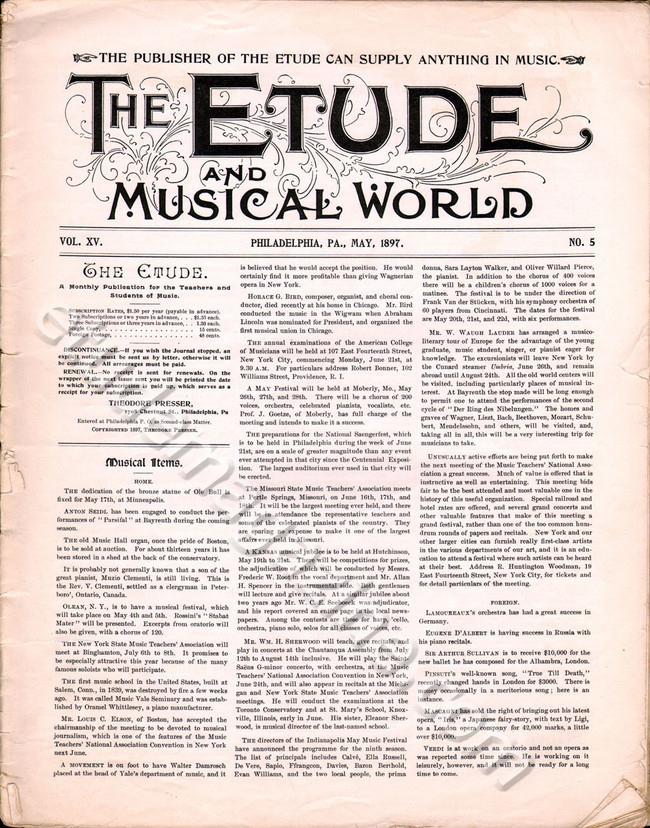 Selected Content from the May 1897 Edition of The Etude

Questions and Answers.
The reason that one gets pain in the back after practicing is that the back is not in a perfectly healthful condition. The movements made in piano playing are originated by nerves whose centers are in the spine. The action of these nerve centers is maintained by supplies of blood, and the blood gets access to the centers by traveling in vessels which pass between the bones of the spine. When the demand for blood becomes excessive, there comes to be a congestion or pressure of blood in these vessels which extends to the nerves of sensation in their vicinity and causes them to report something out of order, their report being transmitted to consciousness as pain. Read More

Editorial Notes.
Monotony is the foe of expression. The cultivated ear can not endure an unchanging sameness. Hence, accent in music is an inherent necessity. But the fathomless extent and influence of accent has not yet begun to be comprehended. The rapidly revolving wheel does not reveal its single spokes to the eye, except as a more or less indistinct blur. If the spokes are large they make a greater impression upon the eye than if small. Read More

Special Notices.
OPERETTA "PANATHENÆA," BY FANNY Granbery Levy, for School Commencements and Church Entertainments. Published by Gordon, New York. Read More

The Musical Listener.
Among the many conversations and discussions about things musical The Listener indulges in, few have proved as interesting and instructive as the little talk he arranged especially for The Etude with Mr. B. J. Lang, of Boston. Read More


Death of Brahms.

The death of Johannes Brahms, on the third of last month, removes from the musical world another prominent figure. Johannes Brahms was born on May 7, 1833, at Hamburg, where his father was contrabassist in the orchestra; from him he… Read More


Musical Items.
It is probably not generally known that a son of the great pianist, Muzio Clementi, is still living. This is the Rev. V. Clementi, settled as a clergyman in Peterboro', Ontario, Canada. Read More