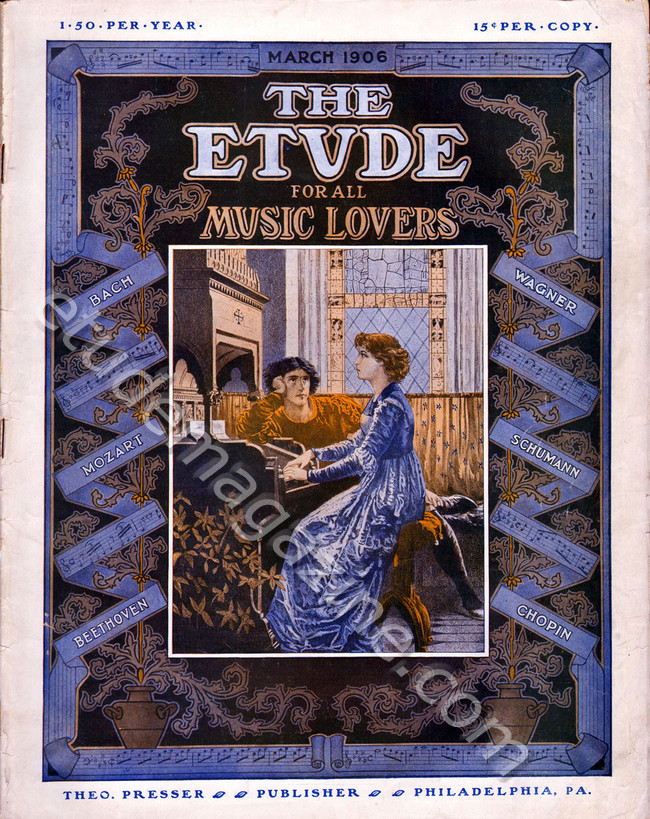 Selected Content from the March 1906 Edition of The Etude
What Musical Instruments Are Concealed In These Pictures?

… Read More

Rubifoam for the Teeth

Read More
Velvet Grip Hose Supporter
Read More
J.W. Pepper Music
Read More
The Kimsey Music Binder
Read More
Hanchett System of Correspondence Study of Musical Theory
Read More
The Oberlin Conservatory of Music
Read More
Cooke-Keller Combination Music Staff Ruler
Read More
Metronomes

Read More

Where Ignorance Is Bliss.
These collectors rarely play the violin. They know nothing about the art of violin making, either ancient or modern, except what they have gleaned from extravagantly written and unreliable books on the subject. Read More

Erroneous Ideas About Violin-Making.
I should like, first of all, for the sake of clearness, to contradict a certain popular theory, according to which machines are used in the manufacture of violins, violas, violoncellos and basses. I am personally quite ignorant as to whether such machines exist and where they are to be found—certainly not at Mark-Neukirchen, in spite of the vast quantities of instruments which are produced there in one year; and as I paid special attention to this point, I should like to state the fact with all the greater emphasis, and to repudiate all statements to the contrary. Read More

Violin Study Abroad.
Speaking of the comparative merits of foreign violin schools, a Boston artist, who has studied in several centres, says: "I found my life in Brussels very congenial. We were, however, obliged to play great concertos until we were fairly worn out. Everything was sacrificed for public appearance. Read More

Music in the 17th Century.


A most interesting glimpse into the musical life of the 17th century is afforded by the illustration on this page, which is a reproduction of an oil painting in the DeWit Museum at Leipzig. Read More

Brevities of Summer Orchestras.
Thirty years ago, salaries were $30 a week to members of orchestras. Salaries are now less because symphony orchestra men have brought down prices. They now work for continental wages. Women orchestra players will work cheaply. They bring down the rates for such work. The average salary for orchestra players is now from $10 to $15 a week. Read More

Comments on European Musical Topics.
Not all music is national. Bach's exquisite polyphony and Beethoven's classic tonal architecture belong not to Germany, but to the whole civilized world. The ideal sentiment of Schumann, the poetic fire of Chopin, the fairy-like grace of Mendelssohn, the brilliance of Liszt, the superbly colored scenes of Wagner, these are not essentially German, Polish or Hungarian, but belong to all the world. Read More

Recital Programs
Pupils of Miss Jean Frances Carroll.Murmuring Brook, Bohm; You'd Better Ask Me (song), Loehr; Valse in E-flat, Durand; King of the Carnival (4 hds.), Deshays; The Flatterer (4 hds.), Chaminade; A Love Letter, Howard; The Sailor Boy's Dream, Le Hache… Read More

Questions & Answers
In his selection of studies from Clementi's Gradus, Tausig gives the fingering for scales in double-thirds in all keys. These are the traditional fingerings. In Philipp's "Exercises Journaliers" (Daily Exercises) he has devised a new system of fingering for double-thirds in all keys, which should prove useful to you. Read More

Musical Items
Cesar Franck's "Beatitudes" have been given in Leipzig. The Pittsburgh Orchestra, Emil Paur, conductor, has upwards of forty out-of-town dates this season. Working people's symphony concerts are given in Vienna; seats, 8 cents, standing room, 4 cents. The Institute of… Read More

John Knowles Paine - The First Of The Great American Composers
By LOUIS C. ELSON At the present time we possess a numerous band of native composers of even more than national fame, for the works of Chadwick, MacDowell, Van der Stucken, Parker, and many others, have been performed in European… Read More