Search eBay for a print copy of the November, 1902 edition of The Etude Music Magazine.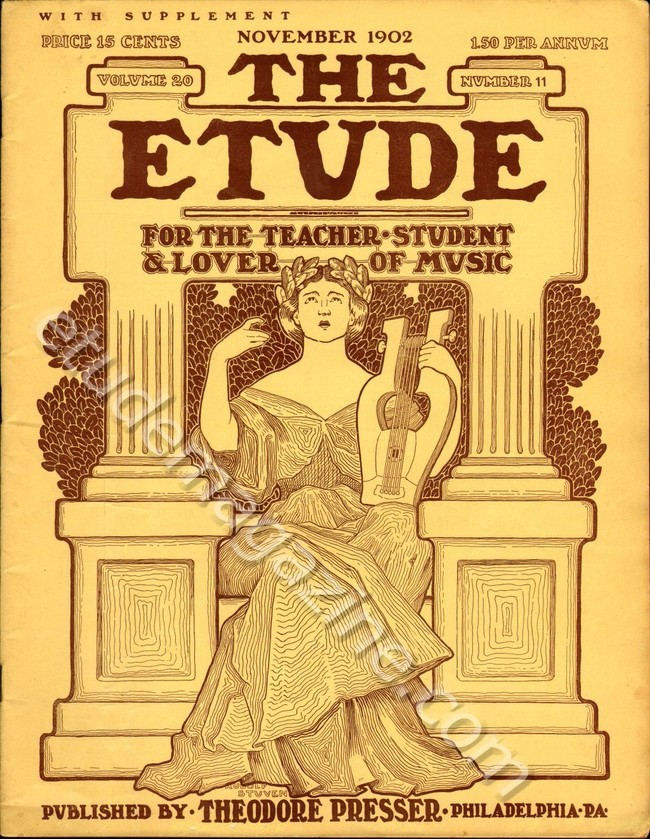 Selected Content from the November 1902 Edition of The Etude

The Collection of Tuition Fees.
BY J. FRANCIS COOKE. One of the principal nuisances of many teachers lies in the collection of fees for services rendered. When one purchases any article of intrinsic value, the article, if unpaid for, remains as a constant… Read More

Making Progress
BY N. IRVING HYATT. It is not given to any teacher to know fully the influence he has over his pupil; usually it is not even appreciated by the pupil. This influence does show vitally, however, in the… Read More

How Schubert Composed.
From a biography of Schubert, by Richard Heuberger, we learn something of Schubert's methods of composition. Even as early as his sixteenth year he had formed a regular system of work, which he carefully criticised and improved. After the… Read More

Music-Teaching from a Country Standpoint
BY W. S. B. MATHEWS. In a recent issue of a contemporary publication a distinguished writer comforts a disconsolate woman from Iowa, who regrets that she has to give lessons from house to house, often at less than… Read More

Mistaken and Deceived.
It is most pitiable to see some one who has spent perhaps fifteen years in studying the technic of an instrument coming before the public with well-developed mechanics and nothing else. And what is quite as sad is the… Read More

Woman's Work in Music
Edited by EMILIE FRANCES BAUER. TO THE CLUBS OF AMERICA As the season opens the editor of this column desires to be of whatever benefit she can to the clubs and to the women-workers in music in general…. Read More

The Piano-Player's Position.
SYMPOSIUM BY F. L. REED, HARVEY WICKHAM, WILLIAM BENBOW, E. D. HALE, F. A. WILLIAMS, FLORENCE M. KING, RICHARD ZECKWER, MARY HALLOCK, E. B. HILL, E. F. MARKS. The average pupil sits too close to the keyboard, and… Read More

Hobbyists
By J.S. VAN CLEVE We all know them. There is the religious hobbyist, who, having caught a glimpse of one of the myriad flashes of God's infinite light from some pinnacle of thought, goes about insisting upon throwing… Read More

Musical Items
Marcella Sembrich is here again. The German Vocal Union has a membership of 109,399. Weber's "Freischütz" had its six hundredth representation at Dresden this year. The daughter of the composer Dvorâk recently made her debût as… Read More

Questions and Answers
J. E. V.—1. The term diminuendo does not imply a decrease in the rate of movement as well as in power, although it is not unusual to hear players so interpret the direction. The correct mark for a slower… Read More

A Talk With Ossip Gabrilowitsch, Part II.

The Making Of An Artist. BY WILLIAM ARMSTRONG Like a number of other noted pianists, Ossip Gabrilowitsch could have recourse to another profession if the necessity should arise. Educated in the law, much of his spare time in… Read More


A Study of Successful Musicians.
The average percentage for artists who have gained early fame is only fifteen, while the average age of eminent artists is forty-five, the same as for musicians. Although the infant artist does not so "frequently figure on our bill-boards," yet it is a nice question whether the percentage of famous artists who displayed precocity is not as great as in the case of the musicians. Read More

The Use Of The Thumb In Piano-Playing.
BY W.D. ARMSTRONG Modern technic has made unusual demands upon the thumb, and fortunate is the individual who has that member well shaped, flexible in all its joints, and under perfect control. The method one studies for the development… Read More

Personal Experience the Great Teacher.
BY EMMA LOUISE ASHFORD. "Divinity is behind our failures and follies also." —Emerson. In entering upon the profession of teaching the young musician of the present day is likely to be— so far as his general education… Read More

The Violin
CONDUCTED BY GEORGE LEHMANN. ARTISTS' TESTIMONIALS A Chicago firm is sending a neat little pamphlet to professionals and amateur violinists throughout the country. This pamphlet at once engages the recipient's attention, for, aside from its various half-tone reproductions… Read More

The Etude Music-Study Clubs.
Conducted by LOUIS ARTHUR RUSSELL. A most encouraging response from all over the country has followed the announcement of the establishment of the plan of The Etude Music-Study Clubs, and from many music-centers comes the news of club… Read More

Practical Points by Practical Teachers
A TEACHER'S BELIEFS AND FADS. W. F. GATES. Music-teachers are generally bright people. As such, their minds are awake and active and ready to grasp new theories as well as old facts. Sometimes these new theories so absorb… Read More