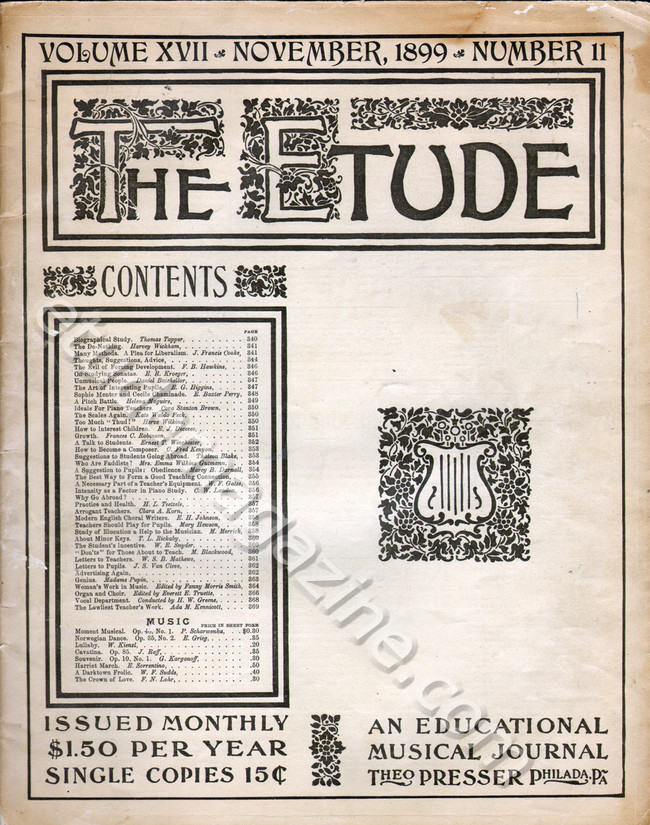 Selected Content from the November 1899 Edition of The Etude

Editorials.
Many writers in the press refer to the epidemic of "rag-time" music, in which we are now well along into the second year, as if "rag-time" were something new. On the contrary, it is old as the hills. There is hardly a composer, ancient or modern, but who has repeatedly made use of "rag-time" effects in his works. Read More

Home Notes
Signor ARTURO NUTINI, the blind virtuoso, by his remarkable skill has won the title of "Blind Paderewski." His genius was early recognized by Rubinstein. Read More

Special Notices
A TEACHER OF VOICE AND PIANO IS WANTED in a Southern institution. The applicant must be thoroughly equipped for the work, and one with European education is preferred. A young, unmarried man is desired. For particulars address Jas. C. Blasingame,… Read More

Sophie Menter and Cécile Chaminade.

Right here, at the risk of being burned as a heretic, let me ask an honest question, to be answered candidly by each reader, in the safe privacy of his own inner consciousness, if he has not the courage to stand openly to his convictions in the frowning face of conservatism and tradition. Does any one to-day really care to listen to these Bach fugues from purely musical reasons; these monstrous tone acrostics; these gigantic thematic puzzles; these huge, mathematically exact monuments of human ingenuity and manipulative skill, which express nothing but pride in the mastery of material, and contain nothing but cold, though perfect architectural symmetry? Read More