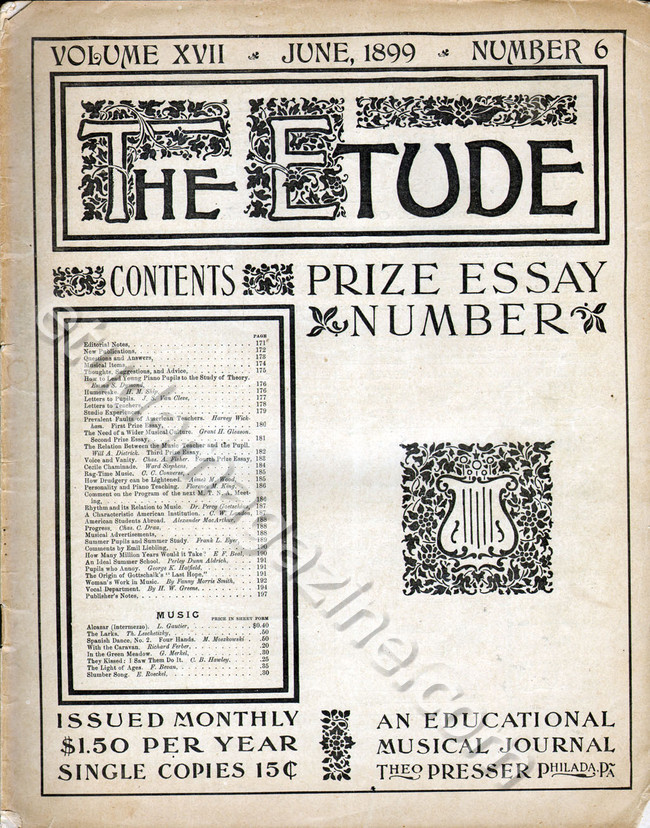 Selected Content from the June 1899 Edition of The Etude

Rag-Time Music.
That rag-time is musically effective, nobody denies. Watch its effect on any audience, if you happen to think differently about it from everybody. Nevertheless is ragtime of the earth, earthy; rub-a-dub, rub-a-dub; of the lower, lowest earth, earthy; though Beethoven employed it; and, with a questionable artistic taste in the foregoing example, be it said, even touching that god-like master. The more one studies, and the higher one gets, with Beethoven, Wagner, and Dante, into the empyrean, the more will he chafe at rhythmic cabining and cribbing. Heaven surely has no baton-wielder, time-counter; for time, of all kinds, is, or will be, no more there! Read More

Cecile Chaminade.

Chaminade tells a very amusing story about the Queen's gift to her. She had played at the Queen's palace during the Jubilee celebration, and a short time after that the carriage of the English Ambassador at Paris drove up in front of her house at Le Vesinet, and two men in gorgeous livery alighted carrying with them a large parcel. Chaminade was frightened on seeing the men in her house with such an ominous-looking package completely covered with seals, and when she was told that the Queen had sent it she almost fainted. After breaking open the seals and unfolding many layers of paper, she found a photograph of the Queen, with the autograph of Her Majesty. Read More


Woman's Work in Music
It has been supposed that the question of sex in work falls under the same laws that govern supremacy of race in the struggle for occupation. For example, as one would discuss the relative fitness in the laundry business of men, women, and Chinese; or, in cookery, of women, Frenchmen, and negroes. Read More

Musical Items
The compositors on the daily papers often make sad havoc of the titles of compositions. One transformed a "Benedictus" into "Benedictine," which was certainly not the right thing for use in a church service. Handel's "Largo" was made "Large," and on another occasion "Lager," which would scarcely do for an organ recital; then a "concerto" appeared in the guise of a "concertina," a most woeful descent in the artistic scale. Read More

Culture.
Repeated effort and the close attention to effect in tone-study afford in themselves distinct mental balance. The theory—a favorite one with pianists—that "mental output is reinforced by its physical response" may or may not hold, but the habit of concentration, which must ever accompany fruitful vocal practice, is invaluable and exerts an influence in all other directions. Read More


Robert Franz.

Wagner declared that the voice should be at the command of the composer, whereas Franz was convinced that the "human voice should command the first attention, accompaniment or orchestra forming but a background." "Instruments," said he, "can be improved to meet the demands made upon them; the human voice is given;—who dares venture beyond its limits?" Read More


How To Spend the Half-Hour.
I believe it is true, as a general thing, that voice lessons are not so long as piano lessons, one-half an hour being the amount of time which, in the majority of cases, the teacher thinks best to devote, or the pupil to pay for, in the domain of voice culture. All this has reference to private instruction, class work being nominally in periods of one hour; though actually, where there are four in the class, it often happens that each pupil gets but fifteen minutes, unless, having the gifts of observation and reflection, he is able to turn to his own use some of the time devoted especially to the others. Read More


Notes of Cases From the Records of a Voice Hospital.
I.EDITED BY F. W. WODELL. A professor of singing who had led a busy life died. Among his papers were found memorandum-books inscribed "Records of a Vocal Hospital." They were of no value to the heirs of deceased, and came… Read More


Consistent Energy.
As musician, [Garcia] was informed in all the known forms of melody, instrumental and vocal. He considered nothing musical unuseful. He devoted his life solely to music, as though there were no other life but music. All his reflections fell into musical form. In promenade, at table, in bed, during an instant of leisure—anywhere and under no matter what conditions he occupied himself with music in one way or another. He wrote over forty operas. Read More


Home Notes.
Mr. Charles B. Hawley, of New York City, gave a most enjoyable concert, of his own compositions, during the past month. The program included vocal solos, duets, trios, and quartets, and choruses for male and female, as well as mixed voices. Read More

Special Notices
Notices for this column inserted at 3 cents a word for one insertion, payable in advance. Copy must be received by the 20th of the previous month to insure publication in the next number. FOR SALE—FOURTEEN COPIES OF MCPHAIL'SCollection of… Read More