Search eBay for a print copy of the December, 1908 edition of The Etude Music Magazine.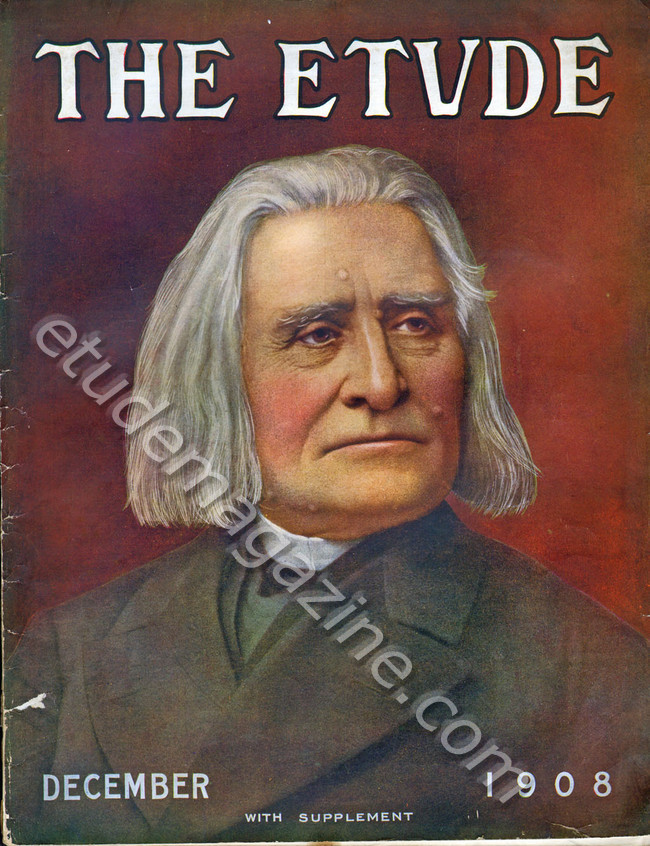 Selected Content from the December 1908 Edition of The Etude

How Chopin Played
Chopin held the very highest ideals with regard to playing the piano. His pupils tell us that the first few lessons with him were a veritable martyrdom. The touch must always be crisp (sec?) and the least detail that did not correspond with the master's idea was severely reprimanded. In order to place the hand in a position that was graceful, and at the same time advantageous, he made his pupil place it on the keyboard very lightly. His style always depended on delicacy of touch, and great simplicity of phrasing. He disliked affectation, and, in consequence, all grandiose movement. Read More


The Secret of Public Appearance

By MRS. FANNIE BLOOMFIELD-ZEISLER [Editor's Note.—The following is from an interview secured expressly for The Etude and is designed to assist pupils and teachers who are confronted with the perplexing problems leading to public appearance. Coming from one of… Read More



Portrait Puzzle Picture

The picture upon this page represents the name of a famous composition for piano which thousands of the readers of The Etude have played. Concealed in a part of the picture you may also find a portrait of the composer. Read More

On Christmas Giving and Holiday Practice.
Just think what a good time you can have, and how much joy you can give to others by going together very early on this morning that "Sees December turned to May, when the chilly winter's morn smiles like a field beset with corn," by going together, a merry, holly-laden little group, singing before the homes of your friends, and especially, I hope, before the door of anyone whom you know to be lonely, and perhaps sad, on this good day. Read More

Saint-Saëns as a Pianist and Organist.

Saint-Saëns' work for the piano is extensive. He has touched all kinds, and in many proved himself superior to his predecessors. Read More


Woman in Music
The preparation of One of Ingeborg von Bronsart's operas for the stage in Dessau brings up the subject of woman's achievements in music. Less than a century has passed since Mendelssohn opposed his sister's desire to publish her works,… Read More


A Lesson With Dr. Hans von Bülow
The great master was in amiable mood and made constant and witty comment on music and musicians, and especially on the compositions under consideration. His memory was prodigious. Not a piece for piano could be mentioned that he did not know. He played with and for the pupils and was always alert and on the qui vive. Read More

With Anton Rubinstein in the Classroom
All who saw Rubinstein playing at the piano had to admire his whole bearing, the complete repose of his body and head. He tried to train his pupils to bear themselves in the same reposeful way while playing. Here is an example of this quoted by Mrs. E. N. Vessel: "How are you sitting at the piano! Please get up!" said Rubinstein to a pupil; he himself took the chair and placed it exactly in front of the middle of the keyboard. "Always take care how you sit at the piano. You should keep your body still while playing, the fingers and hands only should move." Read More

Lowney's Chocolate Bon Bons


Read More

The World of Music.
A clever swindle has been perpetrated on the Omaha public by an enterprising gentleman named Mr. Rice. By paying for newspaper articles in advance, and exercising a blandishing manner he persuaded some prominent business men in that city to support him in securing a brilliant reception for one "Zamona"—a violinist of world-wide fame, who was to honor Omaha with a recital. It was to be a brilliant function, and the tickets sold like hot cakes, the sales amounting to something near eight hundred dollars. On the night of the concert it was discovered that "Zamona" was the suave Mr. Rice himself with the addition of a mustache. Read More

Learn to Compose and Arrange Music

Read More
Underwood Standard Typewriter

Read More

Recital Programs

Music That Progressive Teachers Have Found Desirable Pupils of E. R. Kroeger.Spanish Serenade (2 pianos. 4 hds.), del Valle de Paz; Last Hope, Gottschalk; Serenade, E. R. Kroeger; To Springtime, Grieg; Pas des Amphores, Chaminade; Marcia Fantastica, Bargiel; Valse, "Sakontala,"… Read More

Questions & Answers.
A Subscriber.—We cannot answer your question, owing to the fact that you did not give us your name and address. Read More

Special Notices
ALYAH GLOVER SALMON—Pianist, Lecturer, Recitals (Russian music), (material obtained in Moscow and St. Petersburg) for available dates. Address 106 Huntingdon Chambers, Boston, Mass. Read More



Photo Properties
| | | | |
| --- | --- | --- | --- |
| Color Space | sRGB | Date/Time | Thu 25 Mar 2010 07:39:14 PM UTC |