July, 1909
Women's Work in Music.
St. Cecilia. Clara Schumann. Teresa Carreño. Mrs. Beach. Mathilde Marchesi. Liza Lehmann. Mme. Bloomfield-Zeisler. Cecile Chaminade. Margaret Ruthven Lang. Mme. Guy d'Hardelot.
Search eBay for a print copy of the July, 1909 edition of The Etude Music Magazine.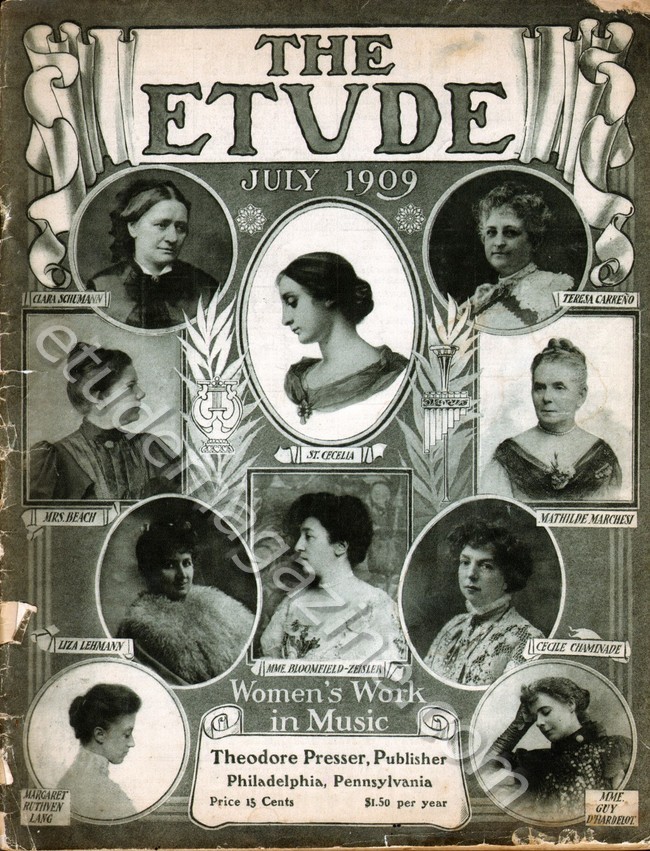 Selected Content from the July 1909 Edition of The Etude
The Etude Gallery of Musical Celebrities

MAUD POWELL. Maud Powell was born at Peru, Ill., 1868, but shortly after her family moved to Aurora. After studying with William Lewis, of Chicago, she was taken to Leipsic, where she studied under Schradieck. After graduating at Leipsic she... Read More

Why American Girls Succeed in Opera


The young aspirant for operatic honors should secure a special course in dramatic study if possible. There are some excellent schools in America and the graduates of these schools have a knowledge of acting and stagecraft that frequently secures them positions in representative American companies. Read More


Saint Cecilia, the Patron Saint of Music.


The tradition which associates St. Cecilia's name with music is that an angel heard her sing and was attracted to earth by the beauty of her song. In most of the paintings of St. Cecilia this tradition is represented. Grove says, however, that the early writers make no mention of her wonderful musical skill. Read More


Famous Women in Musical History
By ARTHUR ELSON Author of "Women's Work in Music" THAT women have had much to do with music is shown, first of all, by the fact that the patron (or matron) saint of the art was a woman. Not… Read More


Edvard Grieg on Liszt's Playing
IN his admirable life of Edward Grieg, Mr. H. T. Finck quotes the Norwegian's account of a visit paid to Liszt at Rome. "After playing the minuet, I felt that if it were possible to get Liszt to play… Read More

The Influence of Women on the Great Composers
How Many Art-works Have Been Inspired by Women PROBABLY in no way has the influence of women been directed to better advantage than in its bearing on the works of great composers. The sublime utterances of the great tone-poets… Read More


The American Woman Pianist of To-day and Yesterday
An Entertaining Account of the Remarkable Advance in Piano Playing Made by the Women of Our Country During the Last CenturyBy Lorna GillTHE ancient civilizations vested the supreme power of musical inspiration in their goddesses; the Christian Era saw Saint… Read More

Special Notices
LIFE OF LOWELL MASON. Friends of the late Dr. Lowell Mason who have letters from him, or any memorabilia, are earnestly requested to communicate with Henry L. Mason, 188 Bay State Road, Boston. Mr. Mason is the grandson of Dr. Lowell Mason, and is at work writing a "Life of Lowell Mason." Read More

The World of Music.
The prison at Sing-Sing has an excellent orchestra made up of convicts. They play selections from the works of Bach, Wagner, Beethoven, etc., and regard their rehearsal hour as an inestimable privilege. No mention is made of there being any choral work done, though the name of the prison would lead one to expect some efforts to be made in this direction. Read More

Recital Programs
Music That Progressive Teachers Have Found Desirable Pupils of Monroe School of Music.Etude, Schmoll; Wichtige Begebenheit, Op. 15, No. 6, Schumann; Spinning Song, Mendelssohn; Simple Confession, Francis Thome; Au Matin, Godard; Invention No. 8, Bach; Scherzo in B flat, Schubert;… Read More

Questions & Answers
Beethoven's grandfather, Ludwig van Beethoven, a bass singer, opera composer and kapellmeister to the Elector Clemmens August at Bonn, was born at Maestricht, and thus the great master was of Dutch descent. The Dutch claim him by ancestry, the Germans by birth and the Austrians because he spent the better part of his life in Vienna. Read More

Lessons From the Life of Jenny Lind.

Although most readers of the present day will think of Jenny Lind's voice as that of the coloratura soprano, it is a fact revealed by history that her voice was not naturally flexible and that the flexibility was only produced after the greatest effort. Her normal range was from the B below the treble staff to the second G above the treble staff—two octaves and five notes. While her fioratura singing is described as being so beautiful that words are wanting to tell how remarkable it really was, it was the wonderful sweetness of the voice itself that made her greatest fame. One writer states that she had "all the volume and sonority of the true soprano dramatico, with the lightness and flexibility peculiar to the more ductile and airy soprano sfogato." Read More


Tone, the Groundwork of All Good Singing - Mme. Lillian Blauvelt

I believe that records of the voices of great singers of our own time will become rare in the future and that these records will therefore be highly valued and prized as family heirlooms along with choice paintings and the family plate as evidences of the culture of one's ancestors. Read More