Search eBay for a print copy of the October, 1911 edition of The Etude Music Magazine.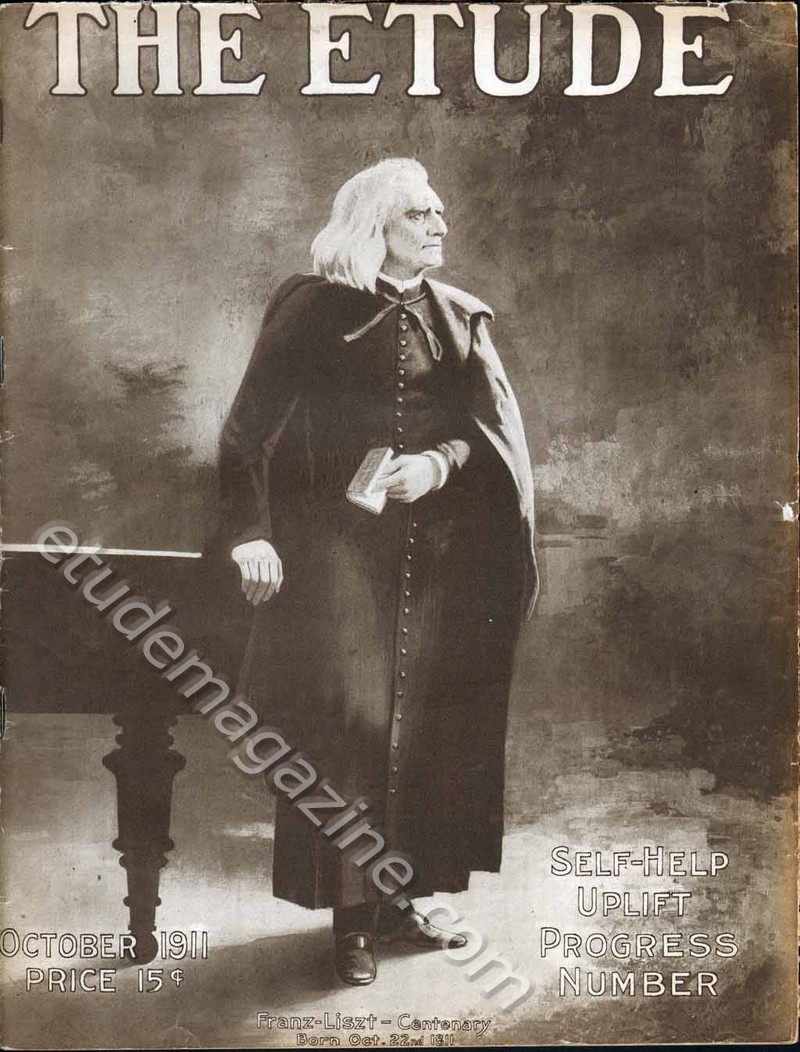 Selected Content from the October 1911 Edition of The Etude
The Etude Gallery of Musical Celebrities

FELIX MOTTL. Mottl was born at Unter-St. Veit, near Vienna, August 29, 1856, and died July 2, 1911, at Munich. As a boy he possessed a fine soprano voice and obtained admission to the preparatory school of the Imperial Court... Read More

Answers To Questions
I am told that a great many German words of expression are now being used in the new editions. Are these German terms ever likely to supersede the Italian terms? Are there any German terms which have a wide use and any which are indispensable? Read More

Success Or Failure—Which?


AT WORK IN THE GARRET. This young musician has no time to waste in telling what he is going to do. Like Schubert in his garret-room, the present is his chief consideration. He is not afraid of poverty nor… Read More

The Organ, Yesterday and To-Day
By the Distinguished French Master,CAMILLE SAINT-SAËNS. [Editor's Note.—This article, which appears here for the first time in the English language, will give organists another opportunity to wonder at the versatility of the distinguished French composer who seems to be equally… Read More

Originality in Pianoforte Playing - Vladimir de Pachmann

The peculiar and inimitable gifts of M. Vladimir de Pachmann have attracted such unusual attention in all art-loving countries that it seems hardly necessary to give the biography of this well-known artist or to comment upon his playing. One of the most notable characteristics of de Pachmann is that he has never ceased to work, never ceased to practice with the view of making himself a better and greater pianist. He has not appeared in public in America for some years. Recent London criticisms declare that he has made an entirely new pianist of himself, and that, while he has preserved all of the velvety touch of other days, he has developed a Bravura style which has not been approached since the days of Franz Liszt. Read More


World of Music
A hitherto unknown letter by Beethoven to his "Immortal Beloved" has been discovered in Berlin… Raoul Pugno, the great French pianist, is working on a lyric drama founded on a work of the Italian poet d'Annunzio, entitled La Cité Morte… It is said that an English electrician is in New York with a device to replace the human orchestra with an electrical machine. The president of the National Association of Theatre Producing Managers threatened that the theatre orchestras will be replaced by these machines unless the union musicians lower their demands. Read More

Mascagni's Bitter Struggle For Success

"When one has arrived in art or worldly affairs, it is possible to look back without regret upon the hardships of the years of apprenticeship that paved the way to success. Time softens the memory of want and struggle, the poignancy of wrecked ambitions, and we get the true perspective of our lives and a realization of the values of our failures as well as of our achievements. How flat and uninteresting would be the retrospect, if there were no shadows to bring out the high lights!" Read More



Well Known Composers of To-Day: J. Frank Frysinger
Mr. Frysinger was born at Hanover, Pennsylvania, in 1878. His musical studies commenced at the age of eight when he was placed under the instruction of Frederick W. Wolf, of Baltimore, with whom he studied piano and harmony. Later he… Read More


Masters Who Have Triumphed By Self-Help

By CAROL SHERMAN "Men at some times are masters of their fates: The fault, dear Brutus, is not in our stars But in ourselves, that we are underlings."— WILLIAM SHAKESPEARE. (Julius Caesar, Act I, Sc. II.) There… Read More




Photo Properties
Color Space
sRGB
Date/Time
Fri 12 Mar 2010 10:55:12 PM UTC
Orientation
Normal (O deg)
Resolution Unit
Inch
X Resolution
300
Y Resolution
300
Compression
Jpeg Compression