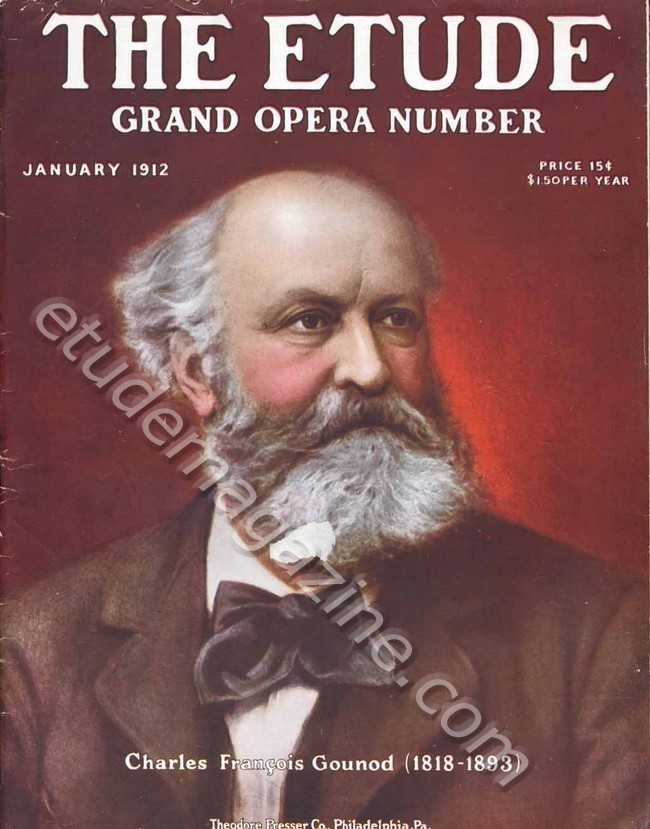 Selected Content from the January 1912 Edition of The Etude
The Etude Gallery of Musical Celebrities

CLEMENT PHILIBERT LEO DELIBES. (Day-leeb') Délibes was born at St. Germain du Val, France, February, 21, 1836, and died in Paris, January 16, 1891. He went to Paris in 1848 and studied solfège at the Conservatoire, also singing in the... Read More

Wall Known Composers of To-Day: Tod B. Galloway

Tod B. Galloway was born in Columbus, Ohio, in 1863. He published first "Seven Memory Songs." This included the exceptionally successful "The Gypsy Trail." Later he published "Friendship Songs," and a number of others. Read More


Special Notices
"THE MUSICIAN'S LETTERS TO HIS NEPHEW" which have been appearing in The Etude during the last few months were originally published in "The American History and Encyclopedia of Music," issued by Irving Squires. This work is a series of volumes compiled by foremost musical thinkers and includes many original contributions from teachers, composers and artists of a similar standing with Mr. Bowman. Read More

The New Presser Building. December, 1911.


The New Presser Building. In course of construction. December, 1, 1911. Read More

Answers To Questions
Has America developed any special style of Church music peculiar to itself, apart from gospel hymns? Does using the typewriter unfit one for playing upon the piano or any other instrument? What is the difference between a suite and a partita? Read More

World of Music
A gentleman from Milwaukee has recently broken his own record as the world's champion long distance piano player by performing for forty hours at a stretch without stopping. Seeing that he came from Milwaukee, it seems in bad taste to inquire whence he found his inspiration for this astounding feat… A gentleman in Copenhagen has written a brochure upon the subject of Esquimeaux music. A large number of native melodies are included and the volume makes interesting reading. Doubtless the work includes such songs as The Wail of the Whale, The Feel of the Seal, the Bear Scare, and so on… Read More