Search eBay for a print copy of the November, 1911 edition of The Etude Music Magazine.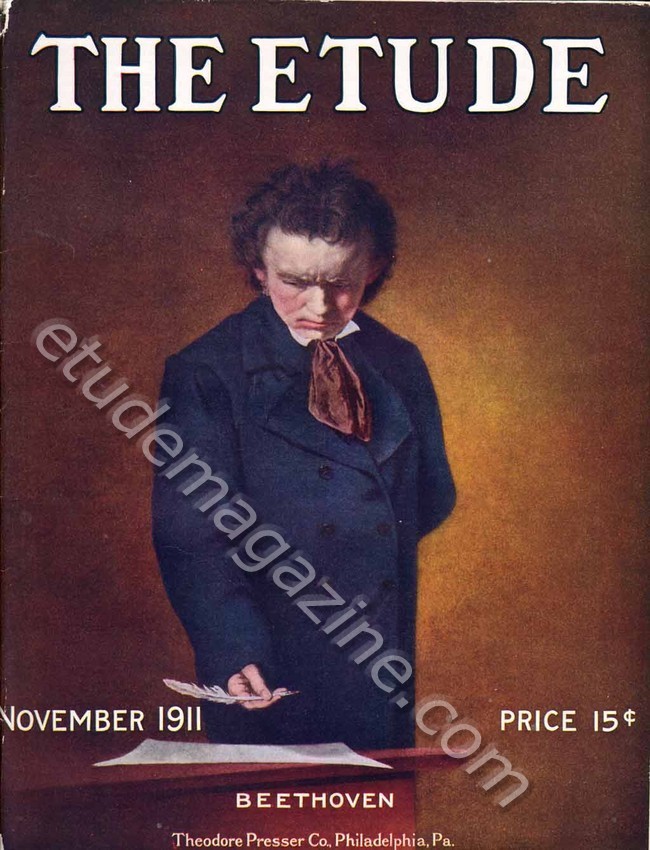 Selected Content from the November 1911 Edition of The Etude
The Etude Gallery of Musical Celebrities

MICHAEL IVANOVITCH GLINKA. Glinka was born at Novospasskoi, Smolensk, June 2, 1803, and died in Berlin, February 17, 1857. He was brought up on his father's estate, and saturated with the peasant music of Russia. His musical training was desultory,... Read More

Work, the Secret of Pianistic Success.

The great teacher is an artist who works in men and women. Every pupil is different, and he must be very quick to recognize these differences. He should first of all teach the pupil that there are hundreds of things which no teacher can ever hope to teach. He must make his pupil keenly alert to this. There are hundreds of things about my own playing which are virtually impossible to teach. Read More


From the Hill-Tops
Above all things, do not stop climbing. Perhaps your path may be along new work in musical theory, technic, musical history, interpretation, study of the plastic arts, literature or biography. Whatever it may be, you will find the real pleasure in the climbing. Read More

Selecting the Right Teaching Piece
One of the best ways to tell a good teacher is to observe how much time and thought the teacher gives to selecting the right teaching piece. Read More

Real Protection for the Child
If you, Mr. Teacher, have been teaching music in a hum-drum, dry-as-dust manner, expecting the pupil to take an all-consuming interest "on general principles," you should realize that the moment your back is turned that very pupil will seek the excitement and interest which you have not provided for him. He will turn from his scales to The Hobo's Picnic, he will desert his Czerny for The Pirate's Bride, he will leave his octaves and arpeggios to stare at the lurid posters of "The Queen of the Opium Slaves." Read More

Self-Taught Masters of the Violin.
It is astonishing at what an early age some violinists begin to rely on themselves. In a lecture in Vienna recently, Bronislaw Huberman, an eminent European violinist, who was a noted prodigy in his childhood, stated that regular instruction ceased with him at the age of 12. After that he was his own teacher. Read More

The Organ Not An Orchestra.
It is not uncommon for some musicians to make comparisons between the pipe-organ and orchestra, chiefly on account of the organ's wealth of tone color. But while the organist has at his disposal stops which are almost identical with, or at least strongly resemble, the principal orchestral instruments, yet, taken as a whole, the organ and orchestra are vastly different. Read More

Mendelssohn As Organ Composer.
When referring to Mendelssohn's works, the man in the street probably thinks of "Elijah" or of "The Hymn of Praise," neither of which are really typical of Mendelssohn's genius. Now, it is quite certain that, great and charming though Mendelssohn's vocal polyphony is, his true greatness and native genius was in a totally different direction—viz., in his organ works. Read More

Modern Organs and Organ Music.
It is said that "Back to Bach" is his musical motto; but the idea of such retrogression is paradoxical, as a mere glance at Reger's works shows us that he has written many progressions that Bach never would have written, in spite of the unfounded and easily disproved assertion of some that Bach forestalled everything possible of accomplishment in modern music. Read More

Real Service That Leads To Success.
No good is ever accomplished by talking of another's faults or by gossiping of another's difficulties; much better is it to set an example yourself of what ought to be. Read More

Musical Thought and Action in Europe
Liszt is growing steadily in popularity. His career as a pianist and teacher was fully emphasized during his life, and rather overshadowed his deserved fame as a great composer. His Sunday afternoon gatherings are ended, lo, these many years, but his symphonic poems are marching on. Read More

Useful Recital Music
Pupils of Mrs. Anna G. Pilcher, Ethelynd Hawley Biscoe, Cecelia R. Berry, Mr. Theodore Hoffmann, Mrs. Clara Thompson, Mrs. William Walker, Jesse Woods, and Mabel Hiskey Barr. Read More

Rubinstein's Meteoric Tour Of America
A multitude of Liszt imitators now flooded the country, cruelly abusing the innocent pianoforte in their vain efforts to show how the master, in whose name they offended, produced orchestral effects on the instrument. They always had a tuner on hand to repair damages, and felt they had done badly if they failed to snap two or three wires of an evening. Sometimes we who heard them were lost in wonder at their bewildering feats; more frequently our finer sensibilities were jarred. Read More

The World of Music.
No, Dr. Lee, there are no wigwams on Broadway, and cowboys are not chasing buffaloes through Central Park… IT is said that a young lady in Cleveland has been cured, by means of an operation on the brain, of a mad desire to play ragtime at all hours… WILLIAM SHAKESPEARE, the distinguished London teacher of singing, is again visiting his friends and former pupils in America… THE following interesting sentence occurred in a recent novel by an English author of repute: "Hugo knew at once that she had been well taught … there were tones and fractions of tones, alluring gradations, due possibly to some remarkable conformation of the vocal chords, which brought tears to the eyes." A peeled onion has the same effect, and what, oh what, is a fraction of a tone like? Read More



Photo Properties
Color Space
sRGB
Date/Time
Fri 12 Mar 2010 10:55:16 PM UTC
Orientation
Normal (O deg)
Resolution Unit
Inch
X Resolution
300
Y Resolution
300
Compression
Jpeg Compression