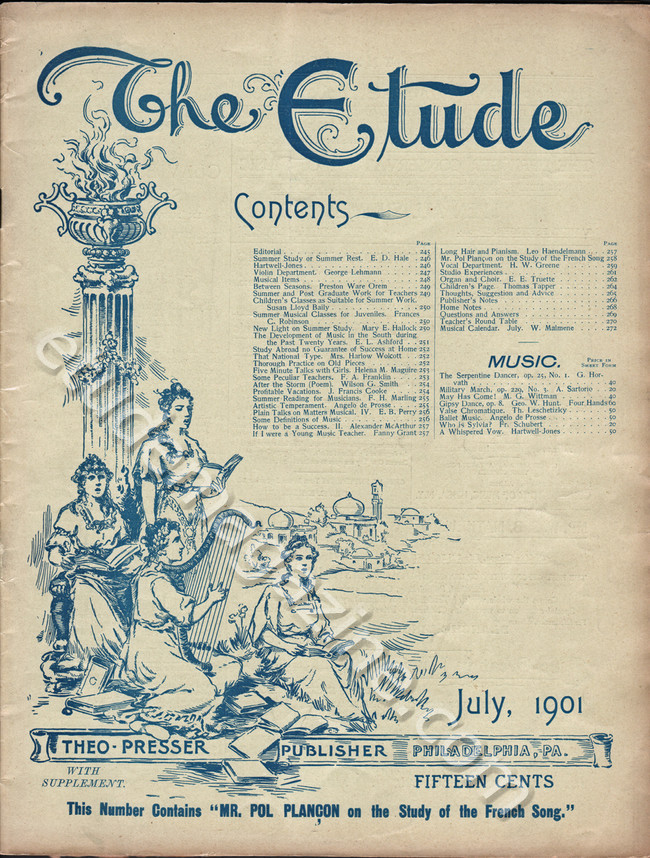 Selected Content from the July 1901 Edition of The Etude

Editorials
July 1901 issue of "The Etude" in searchable PDF Much is being written in the press of the country on "Success." We are all interested in knowing how the various successful men of the world have made their way, and… Read More

Hartwell-Jones (Hamilton Gray).

Hartwell-Jones, at an early period, began the composition of music, but it was not until he was well in his teens that anything from his pen came under public notice. His first popular "hit" was, no doubt, "The Heavenly Song," which found its way, not only into the homes of England, Ireland, Scotland, and Wales, but into the far-reaching lands across the seas. Read More


How Fiddle-Strings Are Made.
So many foolish notions are current regarding the manufacture of strings, and, even among violinists, ignorance on this subject so largely prevails, that an extract from Mr. Ed. Heron Allen's chapter on strings should prove interesting. "Strings for the violin… Read More

An Interesting Violin.
It seems that we are to be "startled," periodically, by the grave announcement that the long-hidden secret of the old Italian masters has been discovered. Like the mystery of aërial navigation, the art of making great violins continues to remain… Read More

A Technical Evil.
It is difficult to understand why players who have already acquired a fair degree of digital skill persist in ignoring one of the safest, and at the same time one of the most transparent, principles of left-hand technic. I allude… Read More

Pedagogues, European and American.
In the United States the opinion prevails that Euro­pean (more especially Ger­man) teachers are necessa­rily possessed of uncommon attainments. In Europe, more especially in Germany, it is the general belief among pedagogues that we have no good teachers in the… Read More

Musical Items
The estate of the late Sir John Stainer was valued at $170,000. A new book, "The Pianoforte and its Music," by Mr. H. E. Krehbiel, is to be issued shortly. A London report says that Victor Herbert and W. S…. Read More

The Development of Music in the South During the Past Twenty Years.
While the South has always been recognized as the land of "music, love, and flowers," it has only in the past few years responded to the great wave of musical development that is sweeping over our nation, making us the proud and happy possessors of artists and composers of international reputation, good schools of music, fine orchestras, and singing societies, and—in some localities—of annual Music Festivals where the more important choral works are given a satisfactory rendering. Read More

That National Type!
BY MRS. HARLOW WOLCOTT. We are all familiar with tine expression: "America has no literature!" We maintain a golden silence when one from across the seas remarks: "You Americans have no school of music—no national type!" Composers of merit cannot… Read More

Five-Minute Talks With Girls. The Lessons of the Summer.
In times primeval knowledge was acquired in many and various ways. People took lessons from things animate and inanimate, and learned from vegetable and animal, as well as from human, nature. As time went on, however, the wisdom gleaned from natural sources became sorted and stored into neat bundles and handed down from wise man to wise man, until it came to be taken for granted that these bundles contained all knowledge, and that it was only necessary to go to a man possessed of a store of knowledge and receive due portion thereof. Read More

Artistic Temperament — Angelo de Prosse.
BY ANGELO DE PROSSE. Artists, it is said, possess a temperament of a peculiar kind, without which they could never reach the Parnassus of their profession. Webster defines temperament as "the peculiar physical and mental character of an individual." Webster… Read More

Long Hair and Pianism. A True Story.
BY LEO HAENDELMAN. Among my professional acquaintances is one who, in his own opinion, deserves sympathy more than any other one in the world. He is very short and very thin, his eyes are weak, and his head very bald…. Read More

Mr. Pol Plançon - The Study of the French Song.

There is both elegance and finish in the versatility of Mr. Plançon, and whether it is opera, a sacred composition, or a song, there need never be any uncertainty of his artistic poise. He is a man of absolute adaptability, and, after all, if we consider a moment, the lack of this quality, or perhaps, one may say, the lack of its development, prevents success oftener than many more recognized shortcomings. Read More



The Passing Of The Italian Aria
The pupils' recital indexes, with reasonable accuracy, the popular trend of repertory. If a few of the best or worst teachers should alone fall under observation one could easily err in his summing up, but, if the aggregate of studio… Read More


A Substitute for the Italian Aria.
An article appeared in these columns last issue urging the importance of American composers writing in the larger form. I desire to emphasize that need under the above heading. The subjects commonly treated by the majority of those whose music… Read More


Interpretative Analysis: "Who is Sylvia?" By Franz Schubert.
In the interpretation of a song the mere singing of the words in an intelligent way is not sufficient to bring before an audience the composer's as well as the poet's intention. Something more than intelligence is required, and that… Read More


About Method.
Much has been said of late, both in the columns of The Etude and else­where, concerning "methods"; but in all the endeav­ors to show the weakness of one method and the strength of another the main point has been lost…. Read More


The Making of a Great Singer.
It has been said that a great singer is born, not made. But this, like a great many other nice sayings, is only a part truth. No singer has ever achieved greatness on just what was born in him. Nor,… Read More


What Constitutes a Singer?
It is already definitely known that the singing and the speaking voice differ only in the plane of vibration, plane of resonance, and trend of the energy used. Otherwise the mediums of expression and the physical force employed are identical…. Read More


Value of Choir-membership.
We must have our organizations and clubs for the cultivation of the externals life, as well as for deeper things of intellectual culture and thought-interchange. Is there anyone within the reach of my voice who knows of a more satisfying… Read More


Organ-Registration.
I shall not attempt an exhaustive treatment of my subject, but shall only discuss, first, the art of registrating a pipe-organ in connection with congregational hymn-singing, and, second, as an accompaniment for a mixed quartet choir. I feel sure that the devout organist cannot give too much thought to these two branches of his work, for? it is just here that he has the opportunity to make the organ, what it ought always to be, the inspiration and support of true worship. Read More

An Organist's Repertoire.
This is the time of the year when every organist should look over his repertoire and make plans for next season. As the present season draws to a close and the various duties of an organist are diminished to the lowest point, he or she can profitably "take account of stock," as it were. Read More

Celebrated Organists. IV. Rink.
Johann Christian Heinrich Rink was born at Elgersburg, in Saxe-Gotha, February 18, 1770. He studied under Kittel at Erfurt, and thus received excellent training, as Kittel was one of the best pupils of J. S. Bach. Read More

New Church Music.
Marston, "On Jordan's Stormy Banks I Stand" (Schmidt). Contralto solo and quartet (or chorus). Eyer, "Sweet is the Light of Sabbath Eve" (Schmidt). Short hymn-anthem for soprano and quartet. Marston, "While the Days Are Going By" (Schmidt). Mezzosoprano (or contralto)… Read More

The Church As A Musical Educator.
Should not the church become the fountain-head of good music, as it once was? Why, then, permit the light and trivial, the commonplace and trashy to have a place on our church programs? Why should not every church, every choir,… Read More

Mixtures.
Mr. Richard Redhead, composer of the well-known hymn-tune "Rock of Ages," as well as other music for the Anglican Church, died recently. He was bora at Harrow, England, March 1, 1820, and at an early age was one of the… Read More

Special Notices
THE LEEFSON-HILLE CONSERVATORY OF MU- sic had a most successful season this year. The closing pupils' concert brought out a large audience. One advantage in this conservatory lies in the fact that the assistant teachers are graduates of the directors,… Read More

Home Notes
Mrs. Caroline Washburn Rockwood will have a studio at Asheville, N. C., until October. Mrs. Rockwood's talks on "Songs and Their Composers" were very successful during the past season. The Commencement Concert of the School of Music, Doane College, was… Read More

Questions and Answers.
R. A.—In playing a finger-exercise or scale the fifth finger should be raised, using the first joint only; so that the tip of the finger is immediately above the center of the key, the second and third joints preserving the… Read More

Musical Calendar.
COMPILED BY WALDEMAR MALMENE. July 1. Wilhelm Friedemann Bach, eldest son of J. S. Bach, died at Berlin, 1784. July 2. Christoph Willibald von Gluck, dramatic opera composer, born at Weidenwang, 1714. July 3. Jean-Jacques Rousseau, philosopher, author, and composer,… Read More